This bible is for the Tween age and its very appealing to the eye(I think very pretty)! This bible is the New Living Translation of the Bible, makes it very easy to read and understand. I compared several verses to make myself aware if this bible was fit for my children - after review yes it is! It just helps not to get confused by the words, you still get the whole understanding even in this translation.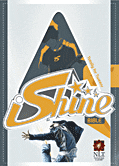 Full-color pages inside focus on one of the central themes of iShine: V.I.P. –Value, Identity, and Purpose. Tweens will see how they are valued by God, how their identity is found in Jesus, and the purpose that they have because of this. The iShine Bible answers questions relating to many of the issues that tweens face with a tween-friendly index. It also features articles on having a relationship with Jesus and growing in faith.
This bible will be released in February 2011! The retail price is $19.99 and the size is a great handheld size 4 1/8 x 6 1/8. I love the leather binding, very pretty and will be very durable. The isbn# of this book is 978-1-4143-4814-8 - this is the boy edition. They also have an iShine for girls.
iShine is a tween brand that combines music (CD, and the iShine Live touring event), TV (iShine Connect Available on DVD through Provident/Sony), a web community (http://www.ishinelive.com/), and other media, including DVDs of the iShine Live concerts and "Sermonettes" by one of the hosts of the TV and concert tour, Paige Armstrong.
Tyndale House Publishers has provided me with a complimentary copy of this book for my honest review.