Since the TOS Expo last year I have wanted to weigh in on a few things so first… I looked so forward to learning about Sue Patricks Workbox System because I had heard a little about it and thought, well I need to know more, and I was so right, I LOVE IT….. She is one of the smartest women I know!! LOL, this is going to be perfect for my children, I already have the items bought and just have to implement this system this school year…… GOING TO BE WONDERFUL, I already have the kids all excited and I think they understand it so much clearer…. I am going to be posting more on this and what we do with the workboxes and whats inside them, and so forth, when school starts!! After the Expo I purchased her book from her site, and it was money very well spent, If you would like to maximize your current curriculum you need to read her book, Its $19.00 or I bought the TOS Special and got extras…. Here is what her site says and again I love it… Look for more info to come on her system!!!
------------------------------------------------------------------------------
Update 1/26/11
: That post was at the beginning of our school year. So lets see if this is still so wonderful half way threw........ YES!! This system helps me stay focused as well as the kids. The system is helping us stay on task on every subject and I couldn't be happier with our progress! The children don't really understand my reasons behind this system but they enjoy the way they see the work that needs to be completed. They help my homeschool be all it can truly be! I prayed so hard for God to send me something to help me out on work load and my sanity! He did just that, The workboxes have been a blessing to me. I share with all I meet! I am including some pics of our workbox system at the end.
-------------------------------------------------------------------------------
Sue Patrick's Workbox SystemSM
An effective teaching system to reduce your organizational time and increase your child's self-control, independence and learning. Specialized for: Autism, ADD ADHD, and Large Home School Families
This system will compliment your existing curriculum!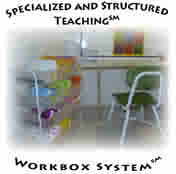 Sue Patrick's Workbox System has two very important components. The first component teaches you how to optimize the benefits of homeschooling. One of the reasons we home school is to provide the best teaching and learning environment for our children. I will show you how to present your child's work with purpose and fun, and allow you to be more systematic with appropriate materials. I will explain how to make your current curriculum and work "make sense" to your child. Often a child's ability to succeed simply depends on having the material presented in smaller pieces that are especially tailored to him. Also, presenting his material throughout the day with variety and enhanced teaching "angles" will make sure he truly learns. While this is great for all children, I can address teaching low functioning children as well as gifted and distractible ones.
The second component is the physical structure of Sue Patrick's Workbox System(sm) which will allow you to teach your child more effectively, and at the same time help you to better organize your school day. Children using this system stay more focused and are more successful in learning and completing their school work independently. With as little as one day's work in restructuring your classroom, you will provide better organization for you and your child. It will then be easier to set up a school day of curriculum, variety and fun, while steering your child toward independence and greater focus.
Here are some pics with our workboxes, You may notice the tags are different - that's because I change them out depending on holidays! Makes it fun!
*********************************************
Blog Hops for Thursday