We started with All About Spelling 2 years ago and we have enjoyed it greatly. We changed over to it from Spell to Write and Read(SWR) because we felt that DS1 was having more trouble than needed. It has really been wonderful to cater to all my children's learning styles. Because us homeschool mothers understand that not 2 of our children will learn the same, its wonderful to have something that will apply to more than one!
A few months back they released the first book in their new All About Reading Curriculum. We got this set for DS2. He loves Ziggy the Zebra so much that he begs for his AAR lesson! Now that's what I want all the time! All About Reading has some free books from AAR. I actually have a link on the left side of the blog to get the free books!!

So since All About Spelling is growing and introuduced the All About Reading too, they have a new website for us all to enjoy! As of August 15th the new website will be running and they have placed all items they publish under one website!! Making it easier for wonderful customers!
My kids are on Level 3 lesson 5 and going strong! DS2 will start Level 1 this year going slowly threw at his speed and also still doing All About Reading! DS1 and DD start All About Homophones as well, its recommended in Level 3.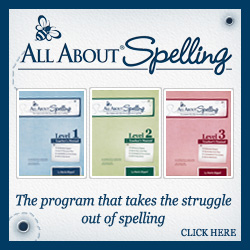 We love all the products they publish. Its very user friendly and it is very interesting for the student.