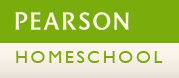 Being a member of the TOS Crew I get the honor of receiving items for review. I was given 5th grade myWorld Social Studies from Pearson Education. The bundle came with Parent Guide, Student Worktext, Mystory video DVD and teacher resource library DVD.
We use a lot of books as readers and I must say this one was no different. In the picture below he is actually reading on the porch. Hey we are homeschoolers - we do school everywhere lol. We would watch the story DVD and then read the section that went with the article. Then answer some questions.
They call it Connect - Experience - Understand.
DS1 said he really enjoyed the myStory DVD best. The DVD introduces them to the topic of the chapter they are going to be learning about with the neatest historic mini tours. They really had some awesome places that got the attention really started for the rest of the lesson. Its a great way for the visual learner to get involved. I think that's why this was actually his favorite part. He is totally a visual learner and a lot of times thats a hard thing to cater to in the different subjects we teach.
I enjoyed this book being written to where he could understand it, that was the most important thing to me. This was actually great bite size pieces for him to take in his brain and keep there. The student text was in large print which was helpful for him because he is a struggling reader, I think with the text being wrote larger it didn't seem like he was having to read as much which kept him able to actually focus on the learning. The pictures are really interesting and show some really good detail. I think he enjoyed the pictures most lol. He comes to me and says mom look at this picture, Isn't that cool its about a Zuni storyteller telling a story to the village children.
While I will be honest I haven't used the Teacher Resource Library very much. Its kinda a whole lot of info and it kinda was confusing! We don't really do tests so that part wasn't for me at all. Its not that anything was wrong with the CD its just there was to much! If that could be a problem lol...
DS1 actually asked if there was another book for him after he finished... So I would like to say this review was a great success.
As far as price. The package I received was priced at $69.99. I would have to say for the learning and material its worth the price. I am going to work along with DS1 to finish this book and I will more than likely buy the next level. He has really enjoyed this set.

Disclaimer: This product was given to The Arrowood Zoo for free for review purposes, and I do not have to return the product to the vendor. I have received no compensation from it and all opinions and experiences within this review are my own.