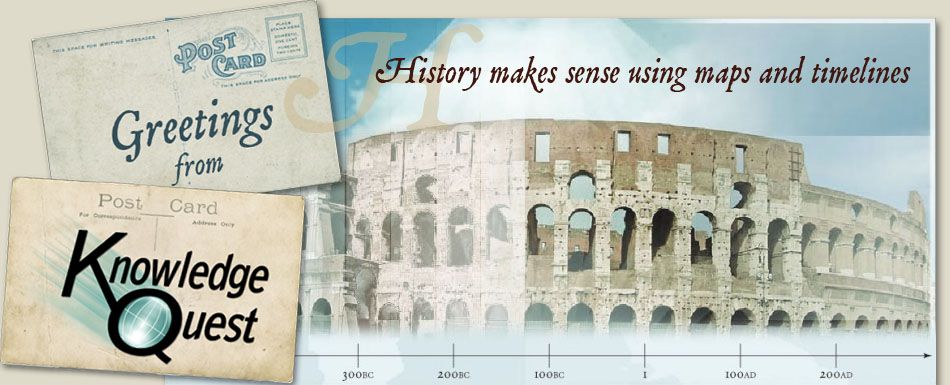 This is a review that I was so happy to get picked for. My oldest son loves maps and enjoys sitting and just looking at them. He also enjoys history which is something I try to cater to him since he doesn't enjoy some other subjects in school((clearing throat)).
Knowledge Quest was founded by a fellow homeschool family in 2001. They had a desire to make black and white maps for children to color and label to help learn history through maps. Man did they succeed on that.
We received the
Knowledge Quest TimeMaps Collection
for review. This set includes 7 different topics and of course with the collection set you will get all 7. The titles are as follows:
Ancient China
Rise of Rome
Fall of Rome
Rise of Islam
The Black Death
European Exploration
Atlantic Slave Trade
The set can be bought for $44.95 for download or $49.95 for cd. If you are tight on money you can also buy the individual titles for $9.95!
The maps are awesome with so many different ways to view them. 75 dynamic, animated maps, quizzes and encyclopedic information for each, as well as complete Teacher Notes with activities, map commentaries, timeline pages and student maps to label and color.
We haven't completed all the maps as of yet. We have been taking our time incorporating different teachings with the TimeMaps to get a broader learning experience from it. I love that my oldest can sit and go through the maps alone and really enjoy his learning experience at a click of a button. The maps really keep his attention, They are truly engaging. The TimeMaps collection is so easy to aggravate through too! You just click your mouse to add different
chronological events and progress at your timing! This has been the best part. Its not a slide show that you have to pause and try to catch up to, its simply your map to discover at your timing. Showing how civilizations, countries and continents have changed over time. I will say my husband has sat down along with my oldest when viewing these and really been amazed at the detail within. The facts and being able to see the changing in time periods has been astounding!
Take a peek at how wonderful the maps look!
Don't take my word alone for loving this product! Go on over and read what my fellow Crew Mates thought about it here!
Disclaimer: I received this product free of charge as a member of the Schoolhouse Review Crew in exchange for my honest review.
Watch this video to see a lot more on the collection and how it works.