I also received another book Whole Numbers and Integers. This book I have used in conjunction with the first.
Price is a very small amount for what you're getting here.
Mastering Essential Math Skills Book One and DVD $33.95
Whole Numbers and Integers $11.95
In this review I received everything needed to teach my kids properly and completely. I got the Mastering Essential Math Skills Book One and DVD. Then also got a Whole Numbers and Integers book. There are some other items we use with these lessons. Extra paper and a white board that fits in DS1's lap while listening/watching the DVD. Mr. Fisher requests that you write with him throughout the DVD lessons so that you're engaging with the program instead of just sitting and listening.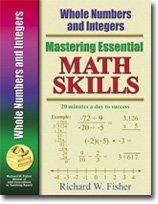 First off as many of my friends and readers know I'm normally pretty hard to please when it comes to math. I just worry about it not being presented in a way that my kids will learn and retain it. I worry that I will make a mistake and honestly the reason why I'm so very picky with math is ----
I'm no good at it myself
!! My husband is the math genius in our household however he is at work during schooling hours and if the kids ever need help I sometimes have to wait on him coming home! So we have always gone with a program that will teach me how to teach the kids. With that said this program is very similar to the "normal" program we have used for years. We are using Math Essentials Book One 3 times a week at this point. We started out just using it twice a week along with our other math program. After seeing my oldest really enjoying this publisher we have upped the amount of use. The DVD is wonderful for a worrisome mother that's always afraid I'm going to present it in the wrong way and my kids will not understand it. The DVD has been so helpful in preparing me. I watch the DVD before my son (normally the night before) and then I present it to him the next day. He hasn't actually had to watch the video on a normal basic, BUT I do still ask him to work out the problems as instructed in the DVD. Also when I have him watch the DVD alone, he doesn't get confused. He understands Mr. Fisher very well. Mr. Fisher helps talk to the kids and you think he is in the room with you.
DS1 – Thoughts
I like the books. It changes topics fast and I get to do several different types of problems. I like this a lot. I asked for it to be my normal math book! The lessons are short and that's another reason I like this book.
The lessons are already laid out for you. With the help of the DVD I'm not afraid of messing anything up. The lessons are short and help my son feel as if he really didn't spend a lot of time on one subject. We have been spending about 15-30 minutes on the lessons. The publisher says 20 minutes a day! That's about right!
I'll be honest I was determined I wouldn't like this math product, but I was so wrong. I have to remember just because it's something different than our normal it can still be awesome!!
The first book, which is what I received, starts for grades 4/5. Then his books go up to Algebra Concepts.
He also states that only 4 out of every 10 eight graders are proficient in Math, and by grade twelve only 2 out of 10!!! I sure don't want mine to be nowhere near that equation!!
My son has actually requested to change to these books instead of what he has always done. So I'm going to pray about changing and getting Book Two. They have a nice set bundled together with Mastering Essential Math Skills 1 & 2 and Pre-Algebra Concepts books and DVD for only $89.95.
Math Essentials will be offering a special promotion for the months of July, August, and September.

The promotion applies to any order placed through the Math Essentials website.

Any order that includes Mastering Essential Math Skills Book 1, OR, Mastering Essential Math Skills Book 2, OR, No-Nonsense Algebra, will include a free copy of Geometry (A $14.95 value) plus a free Homework Kit (A $4.99 value).
Disclaimer: I received a complimentary product in exchange for my honest review. No monetary compensation was received, and all thoughts and opinions are my own.