As part of the awesome TOS Review Crew I get introduced to ideas and products that I never knew existed. This is one of those times. I had never heard of A Thomas Jefferson Education nor This Week In History. So to my excitement I awaited patiently the time for the beginning of this review. When I say patiently I mean it with every ounce of fluid in my body. See this review came in the smack dab middle of our moving. Then no internet to access any of the emails with. So once we finally had internet I was able to start looking at these emails that are filled full of awesome information.
A Thomas Jefferson Education is something I honestly had no knowledge of. This video is great to explain what it is and how you could do the same with your homeschooling.
This Week In History is published by Rachel Demille. I get an email every week from her and all I have to do is open the email. Then the learning just pours out. The emails are so packed full of history facts and happenings that it could truly be a stand alone in my book. I don't like text books and always just like catering to what my kids are interested in at that time. So this is actually very similar to my style of homeschooling. With a subscription to This Week in History, each day's resources are an adventure in math, science, language skills, geography, current events, the arts and so on – all tied to events in history.
Each week is full of pictures, links and videos to help you educate your child to their full potential.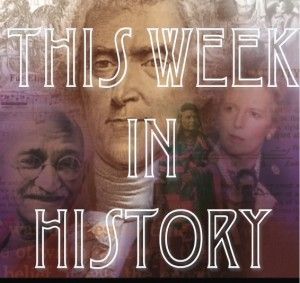 For just $9.99 per month, you have the world of learning available to help you lead and inspire, to explore, learn and and excel! The content is searchable by date, topic and key word, and the whole year's archive can be accessed by subscribers at any time. You can look at a sample here. This is for all ages. I have learned something each day that I didn't know.
One of my favorite things in the emails have been the recipes weather its for food or crafts. Example was July 18th it was Creative Ice Cream Flavor Day. So I let the kids tell me what they wanted to add to their ice cream and they was able to make it in little bags just for themselves. However we did share. DS1 made peach. We had fresh peaches and it was the best in my opinion. DD picked a Hershey bar! No shock, she is the chocolate eater in the family. DS2 just wanted regular. I don't eat ice cream often however the kids and their daddy love it. I have never made ice cream in a bag but this was fun and brought in science and history! I appreciate the emails having some fun inside as well as learning!
I have to share this though, My oldest son is a history nut however he isn't that great at enjoying science unless its an experiment. So the week July 26 - August 1 had a picture of the following:
The reason this is so important was that DS1 had just finished learning that Zebras and Horses could mate because they have similar chromosomes. They are called a Zorse. This excited him to no end. I can't explain it. It was just something within himself when we sat to read the daily history that excited him so much. He is always VERY eager to sit and read about the days history in our circle time now!!
Another favorite that I read from the TJed website was the 7 keys to great teaching...
Classics, Not Textbooks
Mentors, Not Professors
Inspire, Not Require
Structure Time, Not Content
Simplicity, Not Complexity
Quality, Not Conformity
You, Not Them
On their website they go in dept on the topics to help you understand them better!
Disclaimer: I received a subscription at no cost to me in exchange for my honest opinion.