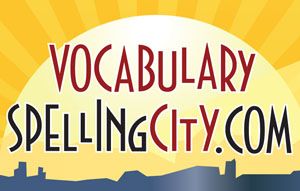 We have been using
Vocabulary Spelling City
for a couple years now just on the basic free account. However through the TOS Crew review team we had an offer to review a one year premium membership!! I was so happy. We love playing games and learning. There's honestly nothing better really. Vocabulary Spelling City is an interactive game based website.
Vocabulary Spelling City
is dedicated to helping students, teachers, parent-teachers, and school systems. Vocabulary Spelling City is an award-winning site with ongoing introduction of new features, many based on input from existing users. The site was launched on the web as Spelling City in 2008 and has grown primarily through word of mouth. In 2009-2010, Spelling City was used by over a million unique visitors a month. The site's services have been steadily expanded over the years. Spelling City became
VocabularySpellingCity
in January 2011 to reflect the addition of significant vocabulary capabilities. During the 2010-11 school year, the site attracted nearly two million unique visitors per month - over four million visits total, and over 40 million page views monthly. (source Quantcast.com). This level of traffic and usage gives VocabularySpellingCity a ranking as a top 1000 site in the U.S. during its peak months. VocabularySpellingCity is supported by revenues from Premium Memberships (which are priced low for maximum accessibility) and advertising displayed to non-Premium Members. VocabularySpellingCity prides itself as being amongst the best values in education.
(DD playing her favorite game, Hang Mouse. She really cracks up with the hat and mouse, she has busted out laughing from it many times.)
One really neat specialty to
Vocabulary Spelling City
is that you can make and customize spelling lists for each student! This is a great way to help your kids review those spelling lists. It is honestly for any age group simply because they offer so many services to be customized to the student. They offer games in Vocabulary, Spelling, Writing, Parts of Speech, Handwriting, and Alphabetical Order.

You can play for free but there are many perks to having the Premium Membership. One - its pretty cheap for the year, only $29.99. This is for up to 5 children. You get individual log ins for each child, premium learning games, no advertisements(which is huge!!!). Once a parent has activated the Premium Membership, the teacher/parent enters the students' names (they can be imported). When students arrive on Vocabulary Spelling City, they should log in. This will take them to their teacher's or parent's homepage. All of their Vocabulary Spelling City activities will be recorded. Their spelling test results will be recorded including the score and the words that they spelled correctly or incorrectly.
Over 42,000 spelling words with customizable sentences and definitions
A REAL person who says each word and sentence
Free home pages for teachers and parents to save lists
Teacher training videos
Free printable handwriting worksheets
Free teaching resources with lists and lesson plans
Twenty-five games to play online or to print such as:
Alphabetical Order, Unscramble, Parts of Speech, Hang Mouse, Crossword Puzzle, Word Search, and Vocabulary Test.
A free forum and newsletters
We have really enjoyed Vocabulary Spelling City for years and the premium membership is wonderful!!
Check out what my fellow crew mates think about Vocabulary Spelling City
HERE
.
Disclaimer: I received a subscription at no cost to me in exchange for my honest opinion.