This is an online piano music course that is very colorful and full of action. Its keep my kids attention. I am using this review with all 3 kids however I am using it different with my oldest. The program is a little "babyish" for my 12 year old of course (hence the name kinder-bach) so I will explain that in a minute. My other children using this review are 7 and 9. They are loving this online Piano course. Very simple to do. You simply sign into the online member area and go to the next lesson you need to complete. You watch a video and maybe play some activities or a game with the characters while your kids are learning the keys, sounds and tones. I love watching them all learn to read music. I learned when I was small however I had forgotten. We are using this almost twice a week some weeks we have more and some weeks we haven't. My smallest son naturally has a love for the piano, whether he is actually playing something he has learned from this review or not. He has had an interest in learning the piano for a while but I didn't really have a lot of knowledge to explain him through this and the local lessons where just totally out of our budget. When this review came up I jumped at the opportunity to be able to provide this to my son and my other kids.
My family was provided a 6 month subscription by the The TOS Crew.
This online piano program is targeted at ages 3-7. I've used it with all 3 of my kids again my oldest is 12 but I have taught him without him doing the lessons online with the smallest 2. The 2 smallers have watched and played with the lessons online. They have a neat little workbook they are working through as well that accompanies the lessons. When I was putting the items together for our review I thought this would be to small for my oldest. However he did have a desire to learn about the piano. So here is what I came up with in helping teach all 3 of my kids. My smallest 2 kids are doing the lessons together and once finished they are going to work on the workbook. At this point I am getting my oldest son and we are going over the new technique without the lessons online so he doesn't feel like a baby which I was afraid would hurt his willingness to learn to play the piano.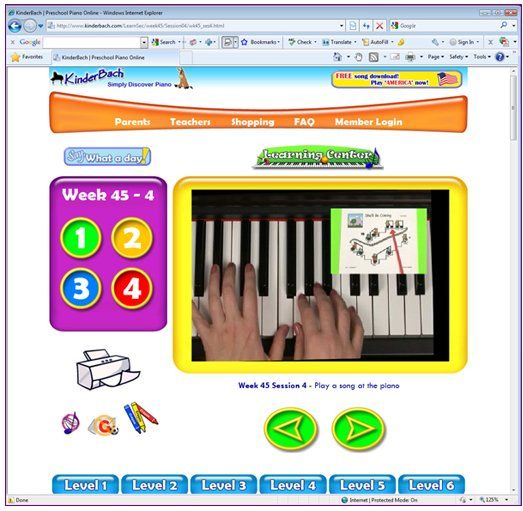 The
online subscription
is $95.88 annually or $19.99 monthly and gives you access to 240 online video lessons, which is 60 weeks of lessons. You will need a piano or keyboard. My family uses a keyboard and everything has worked wonderfully. The best thing of all is that you nor your child need knowledge of music to begin. You can actually try KinderBach
FREE
for 2 weeks. There is a bonus to purchasing something that is kinda pricey, KinderBach offers a 30 day guarantee.
Pro's
I love this program. It's very easy to use with my kids. The videos are fun and engaging to help keep the attention focused on the lessons. There are games and hands on exercises to reinforce what was being taught. You don't have to have any knowledge of music. This program helps with listening skills!! The characters where sweet and my kids really enjoyed them helping throughout. The lessons are short. You can do however many you feel your child can contain. We normally work on lessons 30-45 minutes.
I'm kinda a little torn on the price. I will be totally honest. The price for my family would be a pricey addition that I'm not 100% sure that we could afford without having to save for, BUT with that said I had checked into music(piano) lessons for my kids locally. For one child having lessons once a week for an hour it was going to cost $60.00 per month, averaging about $15.00 per lesson. Then include the gas to and from and having to deal with 2 kids being upset that it wasn't them taking the lesson! That helped put my worries about the cost out of my mind. You can pay $95 for a year! And you can teach however many kids you have in your household. For ONE of my children through this local contact it would cost me $720.00. Obviously the online choice was the best way to go. Not only is it in the comfort of your home but its very interactive for the child. So back to my first negative, its easier to pay for the $95 subscription than the $720!! ((just thinking out loud)) Ohh and thats just for one child! Yikes...
Con's
Sadly the only thing bad I have to say is -- NOTHING lol.... Had you going didn't I??
KinderBach has some other options if your not interested in the online subscription. They have an Ipad app( I don't have an ipad). They also have a new DVD for people that may have a slow internet connection.
Check out how my other crew mates used Kinderbach here.
Disclaimer: I received this complementary 6 month subscription from the TOS Crew in exchange for my honest opinion of the product used in my home with my children. This review is in my own words.
~~~~~~~~~~~~~~~~~~~~~~~~~~~~~~~~~~~~~~~~~~~~~~~~
I wanted to update everyone that there is a discount code available now for this awesome product.
This coupon code gives 30% off any order - homeschool, classroom, online
or DVDs.
Coupon Code: TOS_crew2012
Expires: 12/31/2012
Also the KinderBach App is on sale This Friday, Oct. 19th, 2012 ONLY. The
app will be discounted over 50%, down to $12.99! No code needed just the
link to the Classroom KinderBach app in the App store:
https://itunes.apple.com/app/classroom-kinderbach-school/id534998629?mt=8
THANKS ALL!!!!