This week was kind of rushed. It felt like every child needed some down time. We have been having some late nights and that runs over into late mornings. So schooling has lasted until 2 or 3 o'clock almost daily. I try to always give the kids some play time in the mornings however remember we have a no TV rule until after 3. Rushing is never an option in this house, it gets people frustrated and off to a bad start! So we choose to take it slow even when things aren't going as fast and progressive as I would like. Remember that's from years (I mean YEARS) of experience!
My dad's brought the little 4 – Wheeler that he got over twice to let the kids play on it around the house. They have had so much fun!

DS2 has really enjoyed his self on it! He looks so cute riding because he has a smile as wide as the moon!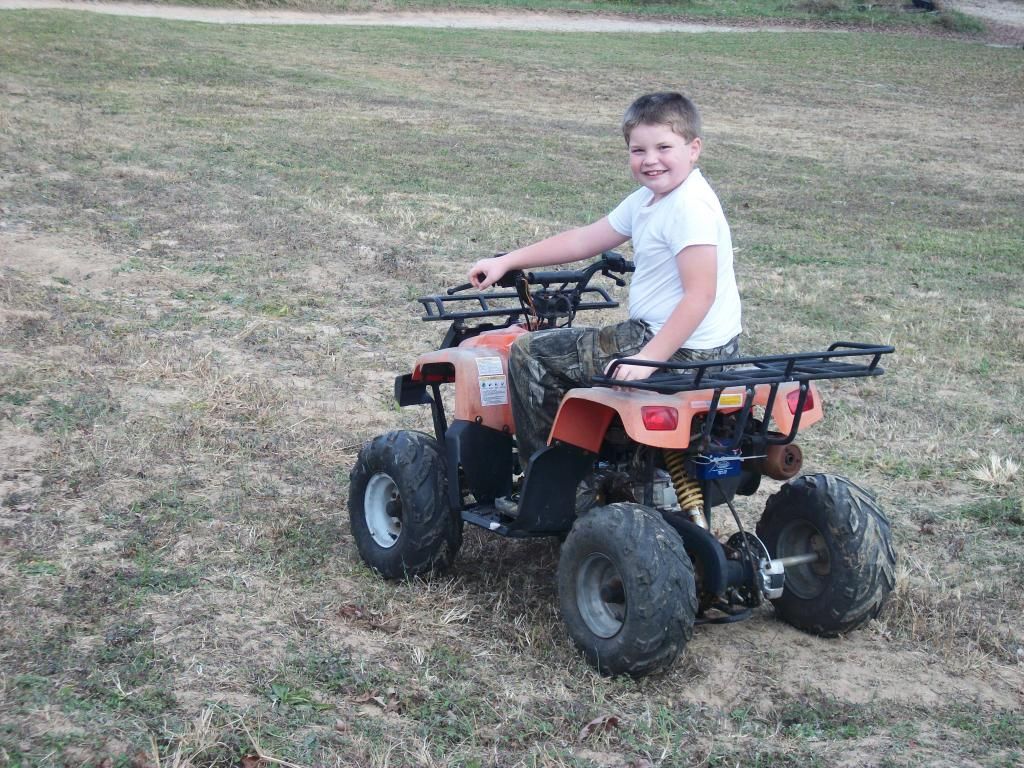 DS2 worked on measuring this week. This was a first for him in measuring. He always loves to carry a tape measure around and can obviously read the numbers but hasn't ever had an assignment to carry that over to. This week I allowed him to do a few worksheets and measure random items in the house so that he could learn what side of the ruler he would use mostly and to identify which is inches and which side was centimeters.

He also had 4 new sight words this week. Big, In, Come & Said. Come and Said have thrown him for a loop. Next week may need to be a review week for words that are giving him a little harder time than I would like. He also enjoyed several audio books this week from the library. We used to get them often before we moved and our old library had a large selection however this new one doesn't have so much to pick from (sad). He also decided a few days that he would only do school work while wearing safety glasses!?! I didn't even ask him why, I have just learned to let them do their thing while working!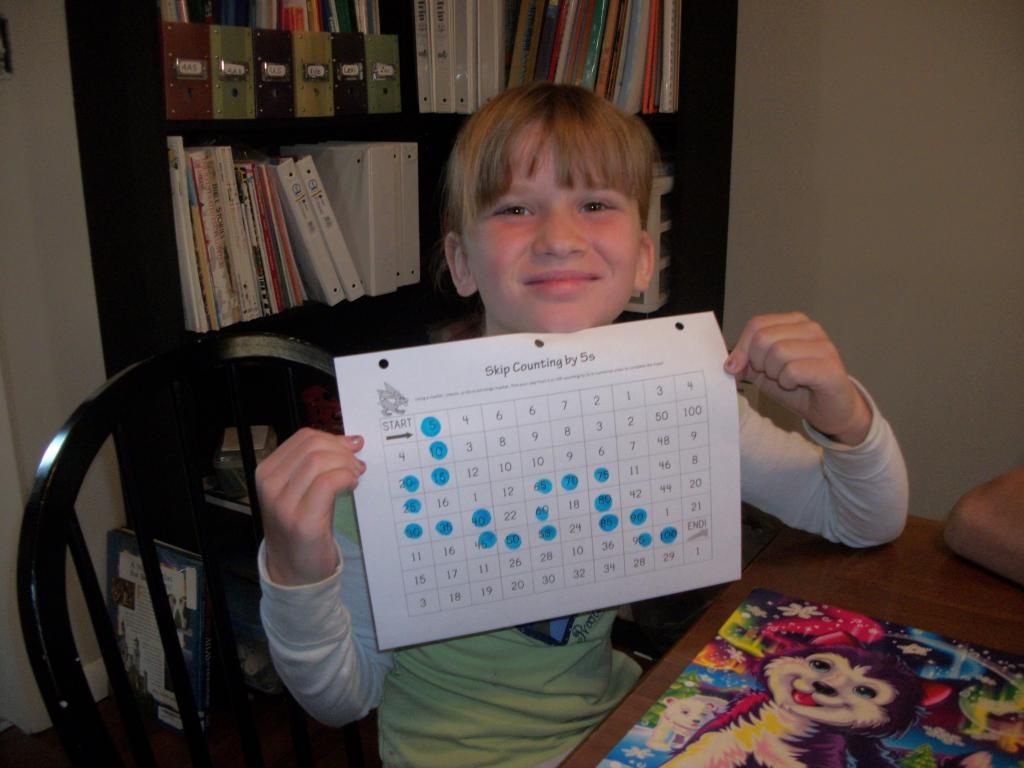 DD is enjoying her cursive work and skip counting freebies from Confessions of a Homeschooler. She also finished her awesome Giant Panda Lapbook that I will post on later. I always try to highlight individual lapbooks for future references. Remember this blog is my personal scrap book. She read several books this week finishing learning facts on these incredible animals. She also worked on some personal art work to display in her room. I have several projects that we need to post on that we have finished in our home. Her room has been "under construction" since July. Like every other room in this home, however hers is finally complete!! WOOHOO. She also worked on a calendar for the new month of December.
DD also had the pleasure of going hunting with daddy this week; she was the first one to go for the season. She got up bright an early at 5 to go crawl in the tree stand with him. What a brave little cookie! I was snug in my bed. Bless her heart. Then one evening DS1 was asked to go. It wasn't as cold that evening as it was when DD went so they didn't have to bundle up as much. No luck, No meat.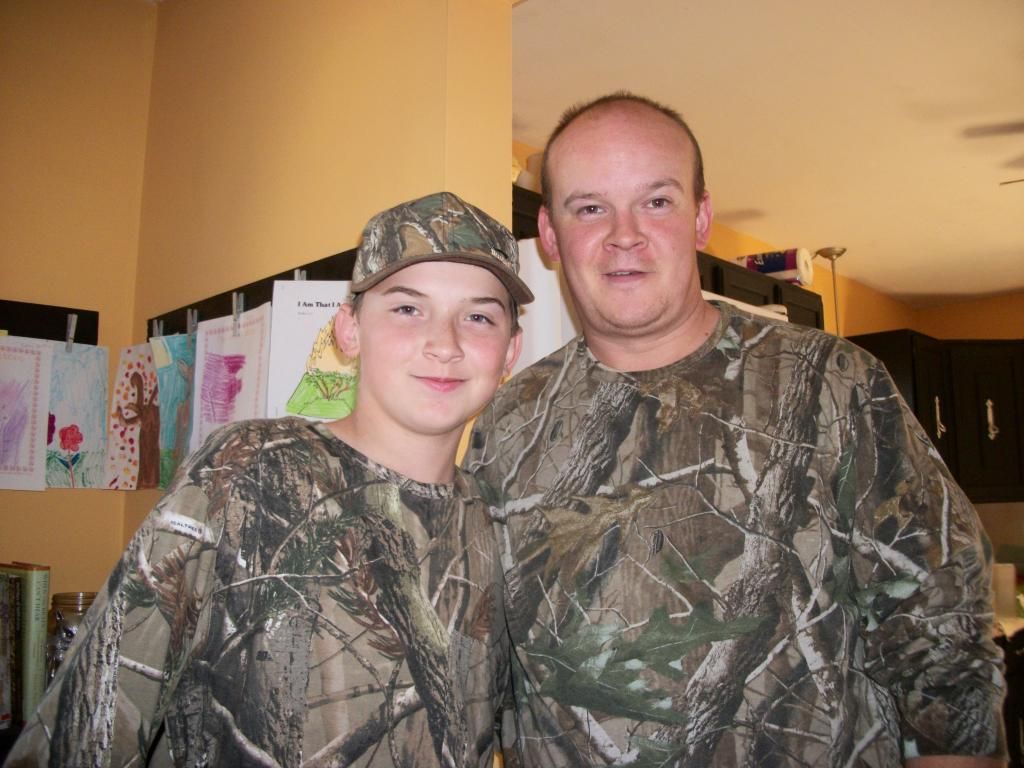 DS1 worked alongside DD to brush up on All About Reading. We tried to do some of the lessons a little differently that previously because I felt as if it wasn't getting absorbed enough. He also worked on a Tree Field Guide in his Biology lesson this week identifying Deciduous and Coniferous trees.

I was very pleased with him going outside to take pictures on HIS camera and bringing them in to ask me to print them. I love when children push themselves! I'm sad to say they didn't really work on the Circuit Lapbook this week. The boys decided to have a "little melt down" over working together and so it kind of got placed behind this week. I meant to have them work alone but it just didn't work out!
Next week we have some changes coming to our homeschool schedule and curriculum. I will post about that Monday. Our love for making sure our kids are learning properly comes before all else. However my children have some problem areas that I would like to take special attention to address. So please watch Monday for a post about our changes.
I had a wonderful meeting with fellow homeschool moms to celebrate a new friend's birthday tonight. It was a true blessing to find some new friends that are Godly women. I am thankful for that! I miss my friends so much and it's warming to find new ones to surround myself with. I asked my mother to go so that I wouldn't be alone with strangers and I was happy she went we had fun and I was happy to learn they aren't strangers any longer too!
Tomorrow is our Homeschool Christmas Celebration! Kids and I are going early because we volunteered to help decorate!
Next week we have a wonderful field trip to a farm that the kids will learn and partake in several activities. Fun-Fun- Fun!
As always this is our highlights, this isn't at all everything we completed but just a good part of it.
Blessings for your weekend friends!