Denver, CO
This review has been fun!
I am not good at science topics, however I made a resolution to do better last year with science labs and such, this has helped me greatly! My family received 3 Science Experiment Books to review and also the Travel Activities eBook. Activity Bags are experiments that are within an eBook for you to make into gallon size bags for individual experiments. The company actually started from two homeschool mothers needing to occupy the smallers while doing something with the other children.
So we had plenty to keep us entertained. Remember my children are ages 7, 9 and 12.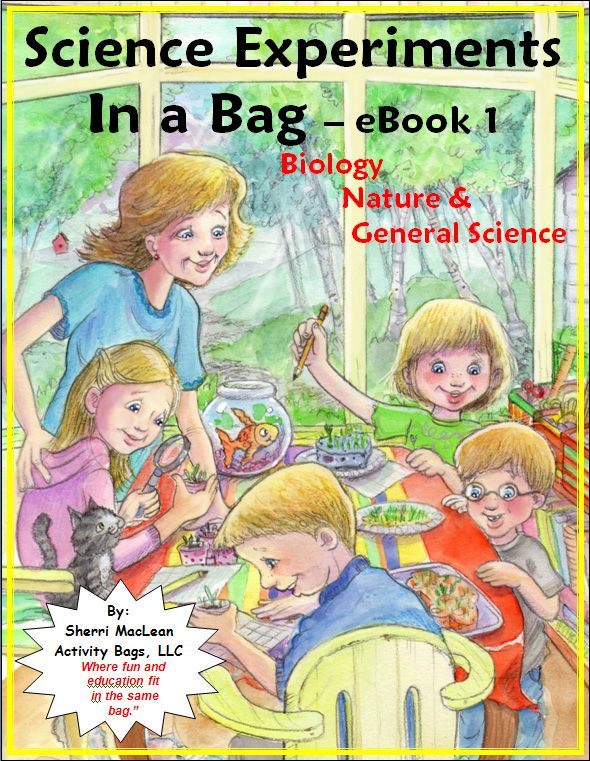 Let me start with the Science Experiments In a Bag 1. You can purchase this eBook for $15.00. This book has 25 experiments on topics in Biology, Nature and General Science. In this book we used 4 Biology lessons:
Geotropism
This was something that we had some knowledge of simply because we plant a garden. Even thought we do plant a garden we can't see into the soil. This was excellent to be able to see the roots and to learn how things germinate.
Our homeschooling science topics in our main curriculum is Biology right now so that's why we choose to do these topics along with our normal.
The experiments each are very laid out on what you need to get started. Mostly everything you will have on hand. There is a supply list at the beginning of the book for each experiment and the best, which is my favorite part, there is an answer sheet!
This book also has 25 experiments within and its also the same price $15.00.
The topics covered in eBook 2 are Chemistry, Human Body and General Science. The experiments we completed in this book where:
This time they are sitting across from each other... You can't see but one in the pictures!
My kids and I actually had a lot(more than we needed to) of fun with this game. We have played it several times. They are so silly. This is one that you really use your imagination with. The Five Sense Game is entertaining, even if it wasn't suppose to have been! My kids love games and this was great for learning. My smallest had a few issues at first because we hadn't really been talking about your 5 senses so after a little review on what they are and having his cards from the game he's an expert now!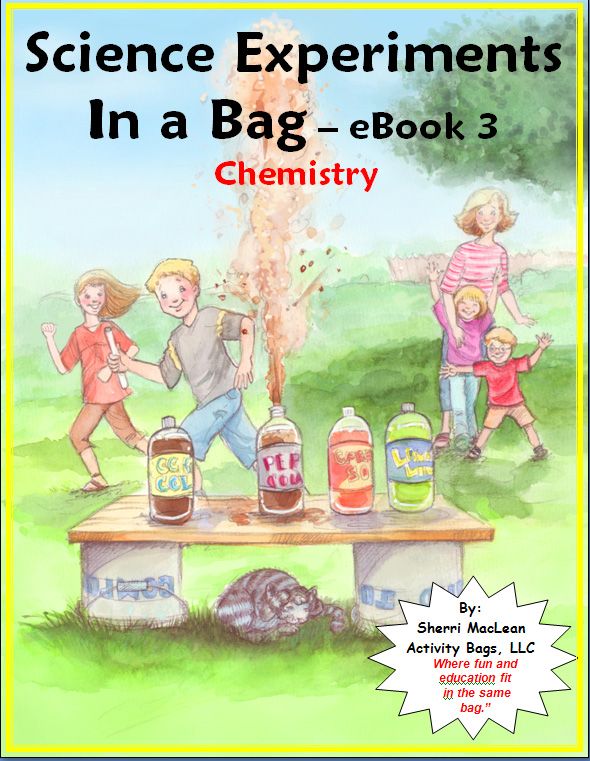 Again same prices as the others $15.00 and this also has 25 experiments to complete. Topics in eBook 3 are all Chemistry related. My family had fun with these:
My children love explosions. They never ever get tired of this. This experiment got them going all over again. It had been a little while since our last explosion! They got very creative with coloring the vinegar with food coloring and had a blast adding the baking soda. We done this about 15 times in a 2 week span.
Kids + Explosions = Happiness!
We had never done this. My oldest son has always loved playing spies and this went along perfect with his personality. This was probably the favorite of all 3 books so far.
We used this about twice a week and I tried to either have it go with something we where learning within our curriculum or just on a fun Friday lab day that has become very popular here! I think I will actually start using these books every Friday and just start working our way through each experiment at a time once our break is over.
This has been a huge hit with the kids. Like I said I'm not a very "sciency" person so having the directions on what I need to start, then what I need to do each step of the way and have the answers for it all. My kinda science! It helps me feel like I can't fail and it helps me with ideas to help my kids keep a love for science labs! Even when I feel insufficient. The book helped me feel as if I could do experiments. I did differ from the intended directions of it being in a bag. I simply gathered my supplies the night before we done the experiments. I printed out everything and just punched holes and stuck in a binder. Since I school my kids together mostly I didn't feel the need to organize it any different.
All the Science eBooks are recommended for ages K - 8th grades.
On to the Travel Activities eBook. This eBook is also $15.00. There are 40 + activities in this awesome eBook! This is great to keep in the car. My kids all three found something to keep them occupied during errands and coop trips. Would be prefect for long travels. I printed the pages off and placed into a binder and put the sheets in to sheet protectors and I placed it in the Van with dry erase markers. The family favorite is Hang Man, Tic Tac Toe and the mazes. My mother actually took the kids to the Nature Center and the kids grabbed it out of my van to go with her!
This eBooks is recommended for elementary ages.
I love everything about these eBooks. They have supplied me with every piece of knowledge I need in an area I feel uncomfortable. These eBooks have helped me to have fun and actually know what to do with everything. I can actually do experiments. I think the best tip I can give is to just try! Don't rush because it will mess you up! Go slow and take your time. Let your kids do the experiments and it will help them connect better to whats being taught!
Also go on over to their website home page and fill out the survey for a free activity sampler!

Disclaimer: I received these products from the schoolhouse review crew free in exchange for an honest opinion of the products used in our homeschooling.