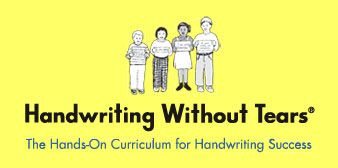 This review started out really crazy, see I thought that I could review the app,Wet Dry Try, they offer since I got a Kindle Fire for Christmas. However after I got chosen for the app I found out that it wouldn't work on the Kindle Fire and I was very upset thinking Zachary and I was going to miss out but the wonderful crew leaders we have on The Schoolhouse Review Crew was gracious and sent me a physical copy for review instead of nothing! I thank the Crew and Handwriting without Tears for allowing me to review these items even after my mistake!
Using Handwriting Without Tears has been a wonderful option for Zachary's writing. You see, writing is something that is a challenge for him. He naturally writes things backwards and erases a lot during a lesson. However with getting this book and changing the way we were going to approach writing for now on, kind of gave us both a clear slate so to say.
Zachary and I are working on our review together. Zac is 8 and in 2nd grade and naturally struggles with writing. We are reviewing the new editions from Handwriting without Tears Printing Power which is Grade 2. The set came with the Teachers Guide, Printing Power Plus student book which also includes Kick Start Cursive student book.
Starting this was actually a little dreaded in his eyes simply because he feels defeated with writing. I was actually looking very forward to it. New changes had to have some new perspective as well. Something fresh, I love the look of the book. It isn't too overwhelming and seriously has a very fresh look to it which makes it easier to use.
Look at that pretty handwriting and a happy boy!!
We also made some letters to use with the set simply because of his reversal issues. If I had extra money I would totally buy the wooden building pieces that Handwriting without Tears sale, so I had to improvise with my budget. Let me also say it's not required for this book, but with my son's issues with reversals I felt to get the full effect it would not hurt to use this with him.
Zachary and I use this book every other day for about 15 - 20 minutes each lesson. Some weeks we have used it Monday, Wednesday and Friday and others just Tuesday and Thursday. We started at the beginning and have went through the foundation skills of learning basics of writing such as paper placement, the way to hold pencils and where to start with each letter. He has done well with those and moved on to words and sentences. Capitals came easy and he enjoyed learning some of the names used by HWT like "Frog Jump Capitals". When it was time to add more of the lowercase letters, it became more of a challenge for him. He really likes the part of checking his own writing when he has completed the line of words or letters! He said "he was in control" lol! Kids...
With the issues Zachary has we have done LOTS of the activities with our writing pages. Air writing has been something we have done for a while however he loves writing the letters with a laser pointer, I can't believe I never thought of that. We also do the letter hand activities daily and I actually think they are helping him remember which letters are supposed to be written below and above the lines best. I pick words from his lesson page or even just from his sight words and have him do the hand activity.
Personally I have enjoyed the little catchy ways to remember how to write the letters. For Zachary he needs little rhymes or tricks to help him excel and I get that out of the program.
We currently are on page 24 of the program and I believe we have done wonderful in learning and using Handwriting without Tears. This has been a perfect fit for him.
The set I received will cost you $19.50 plus shipping. If you would like to see the items before you buy them Handwriting without Tears has sample pages for you here.
I loved this review item, personally I think the items are extremely reasonable when it comes to price. The teachers book is laid out wonderfully for ease and for insecure people like myself to teach and feel accomplished! Total win all the way!
Check out the other Handwriting Without Tears Reviews, members received different grade levels and some even got the app!!
Disclaimer: I received a free copy of this product through the Schoolhouse Review Crew in exchange for my honest review. I was not required to write a positive review nor was I compensated in any other way. All opinions I have expressed are my own or those of my family. I am disclosing this in accordance with the FTC Regulations.