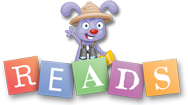 I was given the opportunity to review EGM Educational Systems LLC. The system they offer is a way to help your children read and understand better.
The kit has the following:
READS Teacher Manual - This of course helps the teacher apply this technique and gives helpful advice and suggestions. The manual has 16 pages. It has a step by step plan for you inside so you shouldn't worry about messing up!
Question Cards - This set comes with 30 cards attached by a ring to help you make sure they aren't misplaced and lost. The Question Cards are sets of questions to help build comprehension skills by asking detailed questions about the reading material your child finished. The cards have Henry Hopper helping along the way with visual clues and some of the cards have a Carrot for a more in depth question.
Rewards Chart & Stickers - This just helps motivate the kids. Gives them something to see what their

accomplishments

are.
Magic Finger - This has been very fun! The Magic Finger is a cute/scary looking witch finger that has a long nail for the child to wear to help track his reading. This

h

elps with eye tracking issues so the

child's

eyes don't wonder off.
Reading Guide Strip - Again this is very helpful for eye tracking during reading.
Speed
y Speller - This is a handbook for readers and writers it contains 1400 common misspelled words. This also has common words such as days, months and abbreviations inside

. Zachary hasn't used this but Alexis has a few times when she has asked me for help spelling a word.
This program is designed for 1st - 4th grade reading levels.
The READS program is a supplemental reading comprehension system. The system works with any book that you provide for your child to read because of the Question Cards. That is probably one of my favorite things about this system! You can have your kid read a science book, history book or just a reader and use this! We used this program a few different ways, just depending on time that I had.
One way we used this was I would choose a card before reading and then we would talk about the question card after assigned reading. But I also allowed the kids to read and then close their eyes and pick one card themselves and then talk about that card. Lexi would choose more than one most days simply because she loves a good challenge. This was actually a great challenge for the kids. I know we read a lot but sometimes you just have to stop and wonder what exactly they are retaining and let's just face the truth sometimes we just don't have enough time to stop and ask once reading time is over. This helped stop and take just a few minutes with questions that were already prepared. This helped save me time and for that I am thankful. It has done all the preparation for me when it comes to needing to help my kids with comprehension skills. This system also helps with critical thinking.
Zachary's favorite part was the Magic Finger! He would grab it even when just reading and us not intending to use the Question Cards! It helped him with tracking.
Alexis enjoyed having to be quizzed with the Question Cards after reading. She loves and enjoys reading and at first answering the questions was a little hard for her but over the 4 week review period I see that get easier.
I really loved the way this system is not complicated to use. I love that the preparations have already been done for me! Saves time for us busy momma's. Another really great thing about READS is that you can use it with any book you have on hand. It doesn't take a lot of your time and for that reason this is a wonderful item to have!
The system I received is only $19.95 and I think well worth that for building comprehension skills!
Disclosure: I received a free copy of this product through the Schoolhouse Review Crew in exchange for my honest review. I was not required to write a positive review nor was I compensated in any other way. All opinions I have expressed are my own or those of my family. I am disclosing this in accordance with the FTC Regulations.