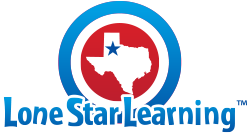 Lone Star Learning is a company that is located in Texas and makes products for helping teach children. One of the best things I can say is that Lone Star is an All American made company! 100% of the products are printed and designed here in the US.
My family received two awesome sets of Target Cards. I couldn't wait to get these because of how highly visual they looked. If you read often you know I struggle with providing my boys wi

th

visual items. I have posted lots of times on right brain learners and on helping with visual kids.
The first set we received was Target Vocabulary Cards, Set 1. These are math related. They are highly visual and perfect for my boys who need visual cues. My daughter isn't in need of things like this but still loved the way the cards are made. The cards have fun ways of the meaning through the pictures on the cards which will help the kids remember the meaning of the word. There are 3 sets altogether and have about 50 cards in each set. They are priced at $29.99 per set. I can totally see why these cards have been given a Teacher's Choice Award for 2012!!
The second set of cards we received was Science Vocabulary Pictures set 1. These are awesome!! I personally love them and I was so happy to see my kids laugh and play while learning the meanings of science vocabulary. These are really fun cards. The science sets have about 40 cards per set and Lone Star has 5 levels to choose from. These cards are also priced at $29.99 per set. I will personally be getting more of these cards soon. I have looked for a long time for such reasonably priced visual cues for my sons and I'm very pleased with these. We are ordering set 2 next month.
Included words for our set are: (from the website of Lone Star)
Word List Set 1
blizzard
carnivore
Celsius
condensation
conductor
conglomerate
conifer
deciduous
evaporation
fall
fern
fibrous root
flood
friction
load – fulcrum
gear
gravity
herbivore
igneous
inclined plane
inherited
lever
magnetic
mammal
metamorphic
moss
permeable
precipitation
pulley
reptile
sedimentary
spring
stretch
Okay since I've told you all about the cards let me tell you what fun we had with them!
We actually used these several different ways. Every day I would give the kids at least 3 cards and then I would go through and start asking who had the card that meant

_____

? Whoever had the card would have to

claim it

and we would go on and on until everyone had explained the

ir

cards.
We also used a card a day for a "daily topic". We sat in the floor many days just looking at the fun

illustrations

on the cards and going over what the meaning was.
We also played a game with laying them out on the table or floor and shooting the

definition

with a

N

erf gun... I have boys can you tell?? Anyway it was fun and it helped to teach the meanings of the words.
I will say I personally give this 2 HUGE THUMBS UP! My kids love flash cards and these have been a huge review item hit within our family. Again if you have visual needs in your home or classrooms you should go check this company out! I

have

looked for several years on items like this and very happy I was blessed to review these but have knowledge on a new company to go to when I need new visual items

for my boys.
They have an online version too!!

Disclaimer: I received a free copy of this product through the Schoolhouse Review Crew in exchange for my honest review. I was not required to write a positive review nor was I compensated in any other way. All opinions I have expressed are my own or those of my family. I am disclosing this in accordance with the FTC Regulations.