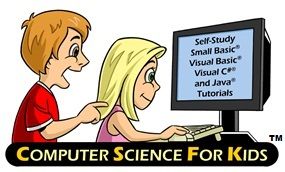 Computer Science for Kids offers computer programming for kids and teens.

My family

used Computer Bible Games for Microsoft

S

mall

B

asic. We

received

a download edition

that has a single user license

. The pr

ogram we used

sales for $59.95 normally however it is on sale!! You can buy it for $34.95. The sale is going to go on unti

l July 4, 2013 so you have time to determine if this is would be a good fit for your family.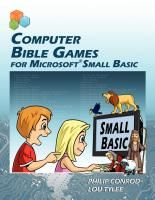 This review proved to be a hard challenge starting out. My oldest son Kyle wanted to give this a shot. The program

is

r
ecommended for 10 and up and Kyle is 12 however he has no computer skills what so ever which I think totally hurt

him

on this review starting out. Let me point out that the program is

for beginners with basic knowledge only.
Each chapter is designed to take 3-6 hours and you should be able to complete that within a week. There are 13 chapters for us to work th

rough. Each lesson starts with a review then moves on into the lesson which tells you what to program for that time and ends with a summary of what has been taught.
Kyle

w

anted to work alone

on this so

I printed out the ebook that has

all the directions

and stapled it together so he would have it in front of him while completing his lessons. He tried to work on it every day for about 30 - 40 minutes. He grew frustrated very fast simply because he didn't have the proper knowledge of computers and because he was having to ask for help constantly which he didn't want and he doesn't like to read instructions (he's like his daddy, it's a man thing?) and he said it had too much reading. I had gone over some basics with him before we started but it just wasn't enou

gh for my son.
So I thought I would have him stop and I then started sitting with him (against his will) for about 45 minutes daily to help him along every day. We have made very slow progress but we are at least moving forward. We are on lesson 4 right now.
This program isn't to fault. The program has very detailed instructions that are very clearly written with step by step instructions. I personally have learned a lot so it's just something that proves hard for my son. He should be able to complete the Computer Bible Games on his own once we have worked together a little more. I personally think computer skills are essential in this techno age we are living in. He has improved since I started helping him greatly. We are also introducing a typing program since I see how his computer skills actually are!
So just because we have had a rough start doesn't mean we won't end smoothly!
Please go visit my fellow Crew members and see what program they used and how the

i

r personal experience was.