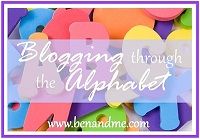 This week we are taking a tour for the letter "H". Of course being a homeschool mother the first H word that enters my mind is homeschooling. I blog all the time about homeschooling

.
However I don't blog about it making me happy!
Let's just face some facts. Homeschooling is hard. Teaching is hard. Mothering is hard. Hey those are all H words! Hard should have been my choice!! (he-he)
Have you ever considered if you'r

e

a happy momma?

Yes I'm very blessed but do I act like it throughout my day of

wrangling

3 wild children that don't want to do school as long as I would like, or they want outside because it's a beautiful day and I just have to get this lesson done, I have to

!
Homeschooling makes us not only the mom but the teacher. Those roles are very hard to

separate

! However I think that we must learn to divide ourselves up into the teacher for a few hours a day and then be that happy mom that your kids want. Make a fort on the clothes line

because

that's what they want. Jump on the trampoline even if you have a bladder issue (just keeping it real). Throw ball because daddy isn't home yet. Color on the porch because that's just w

hat makes my daughter happy.
I was a
sked for a silly face...
You see seeing my kid's happy makes me happy, but there is a line that homeschoolers have to draw because we are responsible for educating

them too

.
Our homeschool style is

relaxed

but has a routine. We do school year around for issues not worthy of this "happy" post but we have set boundaries to our school day stopping at 2 no matter what. This helps us sep

a

rate school time from home time.
I want to be a good mother for my children. I spend

entirely

too much time with my children to be unhappy. After all, this is a huge blessing that God has given me. My husband has blessed me by allowing my time at home with them so why be unhappy? Well life gets in the way and we lose focus som

etimes homeschool momma's.
Take a breathe and remember all you hav

e to be happy about!