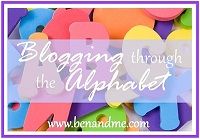 Joy is the emotion of great delight or happiness caused by something exceptionally good or satisfying.
I personally feel joy often and I am thankful that it is a feeling that my children and husband can give me. However over the years I have found that God gives me this joy in the greatest form, after all he is the one who h

as blessed me with my husband and kids!
I think of all my hours within the day and no I'm not "joyful" all of them and sometimes not any of them but when I get settled down and can think after a bad day I am quickly reminded of my blessings and it helps keep my joy

.
I was told something a few years ago that I personally think of almost daily. It was an eye opening experience for me and I am glad that I was told this because I fully can see where and why my God is so important in my daily life

.
If you woke up tomorrow with only the things you thanked God for today - what would yo

u wake up with?
These are the reason's I've got

Joy!
I am a homeschool momma of 3, most of you know that but homeschooling is hard and I have to keep a balance over being the mom and being the teacher. I have s

een

so many blessings from being the teacher/mom while my kids are learning that I am so blessed to take part i

n.
Lessons come in the stra

ngest

places, we don't just learn in the "school room" but in the line at Wal-Mart, in the garden, when watching T

V, while driving or stopping to talk to a neighbor.
I am filled with joy each time my children do good

and

e

ach time they ask to help others. Joy comes from my daughter's little notes she makes for me all the time,

f

rom the hugs and kisses that I get for no reason at all.
I never imagined I would be a mother to 3 children and I never would

have

thought I would be homeschooling them but I am thankful and full of joy that God showed me a different path and that I listened.
Joy

is

the second fruit of the Spirit listed in Galatians 5:22, and is more than just happiness. There is a joy that God gives that far exceeds our human

capabilities

.
Psalm 97:11-12 - "Light is shed upon the righteous and joy on the upright in heart. Rejoice in the LORD, you who are righteous, and praise his holy name."
Proverbs 17:22 - "A cheerful heart is good medicine, but a crushed spirit dries up the bones."
Proverbs 15:13 - "A happy heart makes the face cheerful, but heartache crushes the spirit."
I pray that you find Joy my friends

.