Once again I get the awesome opportunity to introduce myself and kids to a new publisher and resource for review from The Old Schoolhouse Crew.
Science Naturally is located in Washington, DC. Their priority is to bring math and science literacy in an engaging way. Th

eir

materials are designed to engage readers by using both fiction and nonfiction strategies to teach potentially intimidating subjects. The book content correlates to the national science and math standards set out by the Center for Education at the National Academy. One thing my kids liked about this company was that the book was written by a father - daughter team. My kids loved this, because they could relate to the stories that my husband tells them at night sometimes that they turn around and will write on paper and add little twists to. There was just a personal relationship they were able to make because of this

fun detail!
One Minute Mysteries is a wonderful book with 65 short mysteries you solve with science. The book is 180 pages of fun! It literally takes a minute to read through each story. The book has many different

science

topics throughout

.
Ph

ysical & Chemical Science
Five More

Minutes

of Mysteries (an extra 5 stories)
Bonus Section: One

Minute

Mysteries: 65 Short Mysteries You Solve with Math! (Includes 5)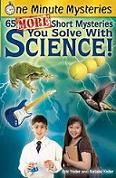 My children are ages 8, 9 and 12. We used this book almost daily at the beginning of our school day. The best part of this was that it can be a quick read or more

in depth

just depending on how much time I was able to put into it. Normally we would read 3 - 5 stories each morning, honestly only taking about 5

minutes

to read and a few extra mi

nutes

to discuss. I enjoyed that my oldest two children could read anything wrote in this book and have no difficul

ties at all with the wording.
This is a brain book as my daughter said, at first I could not understand why she called it that but once I asked she had a great explanation. She said "

I

t's a brain book because you have to use your brain to solve the mystery." That is very true! One of my favorite things about this book is that it has critical thinking skills all throughout it. In order to solve the

mystery

you must really listen and think about what clues where given and how it applies in life. I appreciate that the stories are short and have a great mystery twist because it ke

pt

the attention of all my kids each time!
The book is recommended for ages 8 -12 and as you see all three of my children fall under the recommendation and I must say it is right on. All three of my kids enjoyed and participated in the discussions of the stories. I wasn't sure if my smallest would understand some of the concepts but to my surprise he jumped right into ans

wering like the older two did.
This is the

3

nd book in the "One Minute

Mysteries"

series and I have to say personally my family enjoyed this book greatly. This would be awesome for just a read aloud or a different twist to your science lessons daily.
The book is $9.95 and full of fun information!