Christianity Cove is a great resource for homeschoolers, Sunday School teachers and anyone trying to teach children the word of God. They have free Sunday school lessons, Bible games, crafts, skits and activities for Children's Church. I was given the opportunity to review 2 items in our homeschool day from The Old Schoolhouse review crew.
I received The Lord's Prayer Lesson Pack. It is an e-book that I just saved to my computer and printed out what I needed. The e-book has an in depth study on breaking the Lord's Prayer down into small chunks so that kids can understand the meaning of it better. One of the best things about the lesson pack is it is not just lessons to teach but it gives you games, crafts and songs! I love that it has everything scripted for me so that I can't mess up something this important and while talking to the kids I can still pick right back up where I left off.
Here we are playing a flip card game which was one of the favorites because it was quick and very accurate at teaching the right order of the Lord's Prayer...
All 3 of my kids were able to use this study because it applies to different age levels as well as different teaching methods. My children are ages 12, 9 and 7. I love that it has several ways to teach the prayer. Everything went together very well and my kids learned the prayer within 2 and a half weeks.
Inside the pack you will find 2 object lessons, 2 games, 3 crafts, songs, 2 snack projects (the Oreo prayer snack lesson was a favorite) and it also has 2 worksheets to complete.
This pack is on sale for $19.99 for the early birds, which is the first 250 orders then the price will go up to $39.99.
I personally think the $39.99 is high but they do have a 100% guarantee for 2 months.
The second item we reviewed was Bible Memory Games. This was also an e-book that I downloaded to my computer and printed out.Again this item would be great for a variety of ages my kids didn't have a problem with it and I also think that some of it could be altered for the older crowd.
This has 42 awesome games for helping learn scripture using different techniques. Your children have the opportunity to learn 50 scriptures that are broken down into 7 categories - Salvation, Love, Faith, Good Behavior, Heaven, Faith Over Fear, and Seeking God. In each category, you will find 6 games - 2 visual games, 2 audible games, and 2 hands-on games. This was the most important part for my boys. They are highly visual and hands on so this helped them learn so much easier!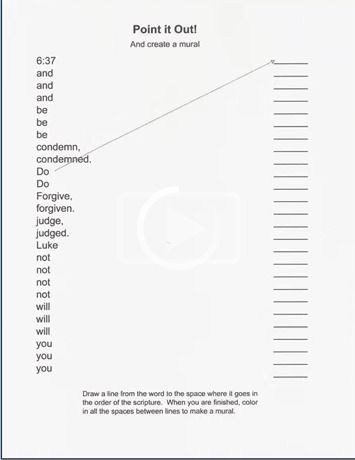 We used this about 3 days out of the week and just choose different topics weekly. The nice thing is that you can bounce around the topics and not skip over anything or mess the schedule up. We have learned several scriptures from the games.
The supplies needed for all the games we have played so far where very easy to get. We have had everything here at home and that is a huge relief. I was unsure with it being a downloadable item if I could make the games work simply because of the supplies but to my relief it was simple items needed.
Some of the games we had actually already played just different versions of it with some of our youth at church and with my own children trying to get them to learn and memorize scripture.
The game pictured above was
Point it Out Mural Making. Children place the words in the right order by drawing a line to the appropriate spot, and then they color in the spaces between the lines, creating a colorful mural.
You can purchase the item for $29.
Overall my children enjoyed learning through games which is something we incorporate in to our homeschooling on a normal basis. However I personally feel that the prices are a little high for my comfort.