Memoria Press started in 1994 by Cheryl Lowe. They are a family run publishing company that hopes to provide easy to use materials for homeschoolers and private schools. My favorite part of the company's philosophy is that it incorporates a Christian education view.
Geography 1 is suggested to be used for 4th grade. I have two children that I am using this with however in 2 different ways. Their ages are 9 years old (3rd grade) and 12 years old (7th grade). The set I received sales for $48.00
The set came complete with: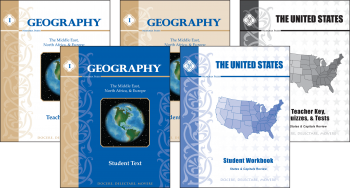 Geography 1 teacher's guide
United States Review book for student
United States Review key, quizzes and tests
Geography 1 covers the Middle East, North Africa and Europe. Each region is broken down into 2 topics: History's Headlines & Tour of Today. I love how the passages talk about the ancient ways and life and wrap it up with a modern tour of what is current there today.
I am using this product in 2 ways.
My daughter 9 (smallest) is only using the student text book. We are reading it as a read aloud and talking about some of the neat facts within each country. She loved learning about Iraq for a few different reasons:
1- Her papaw (my dad) served 18 months there.
2 - She has learned of the "Hanging Gardens" before and loved learning more about it.
3 - She loved knowing it was once Babylon; because we study a lot from the Bible she was able to place several events easily.
I have been giving her a plain sheet of paper each lesson and allowing her to trace the country out of the student book. I haven't made her label anything other than the country and capital however she has took it upon herself to label more each lesson.
The reason she isn't using the student workbook is because copyright issues will not allow me to make copies and just to be honest I didn't want to buy another book, we are nearing the end of our school year and I don't have a full budget for books.
My oldest is using everything provided. We are reading together aloud with my daughter (we are still working together to save mommy's time and sanity). After reading aloud we talk about the basic facts and compare where we are on a globe to where the country is we are studying.
Then Kyle moves onto using the student workbook. He has to know the country, capital and ancient name. Then he writes a fun fact about the country. He then has a map to label with terms from a word bank. Some of the maps are very detailed and have a lot of land, sea and land features to label. He loves it!
The teacher guide has all the answers needed for the labeling maps and for the reviews and tests.
We will continue using this until we are completely finished and then I will move on to Geography 2 that teaches about Sub-Saharan Africa, Asia, Oceania, and the Americas. My son has always loved history/ geography topics so this was an excellent fit.
I love how there is great information to read however it is still compact enough to not overwhelm my children. My kids love the labeling. They take extra time to color in the maps even.
The United States & Capitals set is meant for a review of material already taught. It isn't intended to be a main course of study. They too are short and to the point. There isn't anything to read with those books just labeling so you can stay refreshed on topics already covered.
I must also say that I have my eye on their famous men series too! Loving the way the history is presented has really made teaching more pleasant for my son that is always in a hurry to be done for the day. These topics would be a great fit and addition for him.