See The Light is a company I have seen many times throughout my homeschool journey but I've never had the opportunity to buy one of their items or have it given to me. Because of The Homeschool Review Crew I was provided God's Runaway Story & Art lesson on DVD to review. I was super happy to try this with my kids!
God's Runaway is about the story of Jonah. The DVD starts out with a story about Jonah and how he ran away from God because he was scared to do what God called him to do, which was to travel to Ninevah. After the story is played you move on to the art lessons.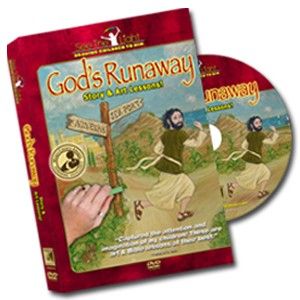 Now to start our review I did need a few items that were not provided for the review. I bought some chalk pastels, extreme color crayons (we actually already had the twistable ones but we wanted to be able to add better detail so we bought the colored crayons), black light and water colors. I had some larger paper 9 x12, pencils, erasers, rulers and tissues used to clean up the chalk. I knew before starting the review that I would need these items and I was fine with buying them for the art lessons. I actually used coupons at my favorite craft store and got really cheap supplies. I did however make a mistake and my kids wished that I would have bought the fluorescent chalk that is for sale on See The Light's website. I asked at two craft stores about them and the one lady suggested that I use the bright ones in the package and I thought it would work but it didn't. I should have bought the ones on the site. Also just since I am reviewing the items I bought I would like to say that I actually had a really hard time finding a black light. I thought I was going to have to buy it online but luckily my husband found one after looking in 5 stores!!!
So if you want to hear my advice on the after of it all - Go to their website and buy the black light and fluorescent chalk! I actually would highly recommend the set they have already together as a

deluxe

gift set, which includes everything I just mentioned at

a great price of $29.99!
My children are ages 12, 9 and 8. The recommended ages for using this is 6 and up and I have to say I think just about anyone could use this and have fun. Kyle my oldest son is the only child that has ever had "

official

" art lessons. He took art lessons at our local homeschool coop every other semester and really enjoyed it but the other 2 kids have never been introduced to an official lesson.
Well here we go - Starting Art!
The first art lesson was titled - O B E Y. The way the story worked into the art lesson w

as

awesome. My kids enjoyed it so much. This first art lesson was with Heidi Shorts and it taught my kids how to be creative with lettering in a simple illustration. It was 18 minutes long and simple enough for my beginners and my older one that has had some experience before to complete with no help from me. That is awesome! They had a wonderful time working on a project that I wasn't in charge of. I did pause the DVD a few times for them to take their time and not rush but they clearly understood the directions that where gave

which helped them complete a great piece to be proud of.
We used a sketch pad, rulers, erasers, pencils, colored pencils and the extreme colored pencils with the black light to really pop our meaning of the picture! OBEY! The kids and I have never used a black light for anything so seeing the colors really stand out was neat for us. The next day my daughter actually used the

extreme colors to draw on black paper and used the black light again.
Lesson 2 stayed with of course the same story line because we are still talking about Jonah and his journey. The project was titled - Released! It was a picture about how the "big fish" had spit Jonah out on the beach to complete God's work for him to travel

to

Ninevah. This lesson was presented by Master Artist Pat Knepley. This was our first experience with chalk pastels and I was thankful that the DVD helped me understand that it was going to possibly make a mess so that I could prepare. I placed a sheet under my kids working area so that we didn't have to worry about the new floor, new rugs and new couch - remember my house is new and we don't want momma mad now do we??!! So the preparation detail was nice. Mrs. Knepley did wonderful with her step by step instructions. The lesson lasted 33 minutes however we paused often in this lesson for the kids to comple

te the lesson

but my kids clearly understood everything that was being taught without me having to explain anything extra.
In lesson 2 we used large 9x12 paper that had a slight gray tone to it, a set of 24 chalk paste

ls, our black light, tissues and paper towels and a large sheet under our work area.
Art lesson 3 was "Salvation Is From The Lord" with artist Jim Pence. We learned some new terms this lesson such as mixed media and what it was. This lesson was something more familiar to my kids. The lesson incorporated water colors and we have played with watercolors for years. All my children and even my nieces love to do that at my kitchen table. My nieces will come straight in sometimes and ask to paint.
We tried to do this lesson downstairs so the water could be on a table while watching and working but that didn't work so well so we moved back upstairs in the living room floor and placed a blanket back under them. We need water, sharpie markers, extreme crayons, pencil, watercolor paper (I must confess I didn't buy it but seen why it would have been important!!) and paint brushes.
The lesson started by drawing a whale and basically that was all because the lesson come from the techniques you used while water coloring and with the black light picture that is a secret until you use it!! My kids loved the black light effect but I can't seem to get a good picture of it so that is a great excuse for you to buy this DVD and do it yourself!
The lesson was about 29 minutes long but it took us about 45 minutes all together because of the drying of the paper from all the water we used and just to get the whale right.
This was one of the most awesome reviews to date! I absolutely loved this story and art lesson DVD. My kids loved it and I think it shows in the pictures where they are showing off their work. This was fun, easy and had the love of God all throughout it!
The DVD Story & Art Lesson can be bought for $14.99 or you can actually get a whole set of See The Light Art Projects for $99.