My family was blessed in being chosen to review Institute for Excellence in Writing. I have heard this name so many times over my homeschooling years but never seen or bought a product from them.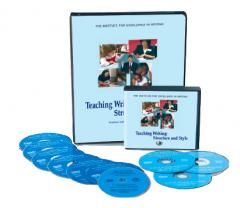 At first I was overwhelmed honestly. I took a deep breath and just started looking at my teaching part which is Teaching Writing: Structure & Style DVD set. Inside the binder that came with the set I found some relief, INSTRUCTIONS! They placed a getting started paper outline of what to do to start getting prepared.
This set consists of 9 units on 10 DVD's that teach you as the parent how to teach the style of IEW writing to your kids. In order for you to teach at your best you really need to understand everything about the program. There are a few different options to watching the DVD's; you can watch all 6 of the teaching DVD's before starting the program with your kids or you may watch them as you teach the techniques. The length of time is approximately 10 hours to watch.
You also get the Seminar Workbook which was very helpful to me.
The TWSS Seminar Workbook, serves as the syllabus for the seminar and contains charts, word lists and sample lesson plans. I have never been a confident writer so teaching it has never been a strong point for me. Having this set has provided me with reasoning and structure as to why writing is important and why I need to make sure I pass it down to my children.
Inside the binder I found tabs to go along with each unit, this was an easy way for me to keep up with everything and stay organized.
There are 9 units that cover a wide array of skills:
Units 1 & 2 Note Making & Summarizing from Notes
Unit 3 Summarizing Narrative Stories
Unit 4 Summarizing References and Writing Reports
Unit 5 Writing from Pictures
Unit 6 Writing Reports from Multiple Sources
Unit 7 Creative Writing with Structure
This would be very helpful for anyone who needs knowledge for writing. Personally as a parent and public school child that done the bare minimum to get by - I have found this so very helpful. After watching almost half of the units I decided I wanted to start with the kids.
Moving on to the Student Writing Intensive Level A.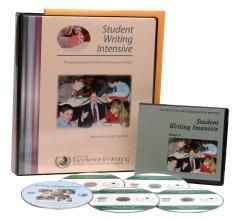 Level A is for grades 3rd - 5th.
My children are ages 9 (3rd grade) and 12 (7th grade).

Although I have one child that is well above the recommended age I have found no problem using it with him. The main reason I decided to use it with both of them was actually very simple. One, I needed some formal lessons for them because we have never done so. Two, I was hopeful that it wouldn't be to babyish for him but would keep his interest.
Upon getting this set I opened a blank notebook with instructions on how to set up everything up. Again I was worried but they already had thought of everything a frantic crazy homeschool mother needed!
My children have been using this about 3 to 4 days every week. Lessons have varied from 30 minutes to over an hour.
I personally prepare everything for my children before we start the DVD for us to watch together. Sometimes I have to get up and down simply because I have another child running around and needing things too which is why I love the teaching notes included.
In the above picture I am helping the kids with an outline and Zachary took a picture for me, Lexi is trying to work alone to find the key words in the sentence, Kyle is writing his story from an outline and last you see the board on a day I helped with another outline.


My kids have laughed so much during our time with Mr. Pudewa. I can't brag enough about this program. My kids love listening to his funny personality, they enjoy him and for that fact alone they have learned better than I would have imagined.
On the first lesson my kids thought he was nutty because momma doesn't allow them to use pens but he wanted them too. I understand completely why he recommends that now. My kids have enjoyed the handouts more than I would have thought because they are really interesting topics.
Currently we are on lesson 7 out of 15. The course is designed to be completed over 30 weeks however if the parent wishes they can complete the course in 15 weeks by simply doubling up each day's lessons. Personally we have just went at our own pace with things. I am not the type that has to follow something down to the point of making it hard on my kids. I want them to learn at their pace and so far they have done wonderful.
My personal favorite thing about this curriculum is it's actually very easy to use! I was almost terrified at getting this, I had blown everything out of proportion but it also didn't help that I struggle with writing and have been afraid to teach it to my kids.
I love this program. It has helped me personally but bigger than that it has helped my children have a love for something they thought was difficult, boring and um-important. I see them writing with more confidence and thinking about better words to use in more than just these lessons!
The Teaching Writing: Style and Structure set sells for $169.00 and
The Student Writing Intensive: Level A sells for $109.00. There is also a value pack that sells for $249.00
I must address the money issue on this review simply because the items are pretty expensive to a homeschool mother like me. Let me assure you it is worth every drop of money you spend. It is worth it when you hear your children learning while laughing. I find it worth it when I see improvement in such a small time. I have already started putting coins into a mason jar for the next level. I know my children will love it and that makes it worth all the money!
Each level of IEW has samples provided on there website, take advantage of them to get a better feel of the program if needed.
Also like them on Facebook!
For more reviews on Institute for Excellence in Writing and Teaching the Classics please visit the Schoolhouse Review Crew's blog.