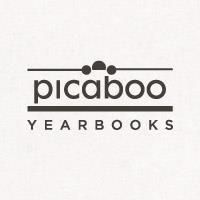 The Schoolhouse Review Crew was given the opportunity to review a product from Picaboo Yearbooks. I had never heard of this company before and immediately set out to discover what the company was all about.
The first thing I learned about Picaboo was that the company was founded in 2006. I was actually seeking to find the purpose behind the name of the company and I found that soon after! I love the reasoning behind the fun name, the company wanted an expression that would bring smiles and happiness to people's faces, so they choose to play on the expression "peek-a-boo".

I know personally I go back to thinking of happy thoughts of my children with the expression, all the fun games as babies that we played. So I do believe the point of the name is established!
The thought of having a yearbook for our homeschool kind of excited me! We had never thought of that before and I never knew it was even possible.
We received the softcover, 8 1/2" x 11" 20 page yearbook. You can find the product online here. Prices start at $8.49 and shipping just $8.99.
Let me tell you a little about my experience making it. First I thought this is going to be easy and fun because I know my way around the computer!
After making myself a profile and logging in. I started to make our yearbook. I played around with the program for about 2 days and then decided that I needed help!
I totally stopped and took a break to watch the user manual. It's a must watch. It helps things go smoother and faster because you learn how to operate the tools. Even if you think you can do it you should watch because it gave pointers on everything!
After knowing what I was doing, I was on my way! First, I decided that I needed to divide up the yearbook into sections so that I could evenly cover everyone and everything I wanted in from our year. This was actually the hardest part. Here is what I decided on:
2 pages where dedicated to our first day of school pictures and our not back to school party that we do every year on the day our public school starts back.
3 pages (9 in all) where given to each child. I wrote things about my children that were special to me. I wrote about accomplishments they had achieved over the year too!
1 page I decorated with pictures of my husband and I.
2 pages where dedicated to our Field Trips we had taken all year. I was shocked when I got to decorating this page how many trips we actually went on! On this page I listed all of our trips and placed a favorite quote.
2 pages where given to our awesome blessings that come from the Schoolhouse Review Crew. These items are special in our family for many reasons and I want to remember the ones we most enjoyed. I posted pictures on these pages of my children using the items and wrote a little about the publishers in our yearbook.
3 pages (these are my favorite) where left for our silly times throughout our year. We take lots of pictures so we had some really great ones just waiting to have a spot to go. I also placed some of my favorite quotes on these pages as well.
"It is easier to build up a child than it is to repair an adult... Choose your words wisely."
"Time is precious, Waste it wisely! "
And the last page was saved for our end of year pictures. I take pictures at the end of the year however with having a nice place to put them I also took a silly face of the kids to share on the page!
First I would pick the background for the page. There are tons to pick from. You can search a certain theme or color. Then I would pick the layout for the photos. This was actually the fun part to me. Getting to rearrange the pictures how I wanted them to fit on the page. I will say that I was shocked at how hard it is to narrow the pictures down to use! I knew I took a lot of pictures but this project kind of put that into perspective! (wink-wink)
Another great choice to getting pictures was being able to import my facebook pictures! This made the process so much easier because I share a lot of pictures via Facebook.
After a week of working on the yearbook it was finished. The program helps you to know if anything needs edited. It shows you pictures that may be out of the margin. It also helps with misspelling.
Finally it was time to order.
This is when all the questions started coming to me.
Would the pages be durable?
Would they be good quality?
Would my pictures show up good?
Processing time is stated to be 3 weeks. From the time I ordered and it was in my hands was only a week and a half! That was the first shock. When I opened the package I could see immediately that I loved the yearbook! The yearbook was all I had hoped it would be and more.
The quality of the pages and cover are durable and great quality. I was worried about how the pictures would look being printed out but all is wonderful. I love this yearbook. My babies have looked at this several times. My family members have been over on different occasions and all looked at it and I can't find any finger prints or issues with the yearbook yet!
I can brag about everything to do with Picaboo Yearbooks. I am glad that I was introduced to the company. Hubby and I talked and this will become a project that we do yearly. Next year I will at least know how to work the program LOL.
Here are some of our yearbook pages:
I do want to share with those of you that might be on a very tight budget, Picaboo Yearbooks offers free eYearbooks!
Find Picaboo Yearbooks all over the web:
Click here to read more reviews about Picaboo Yearbooks from the Schoolhouse Review Crew.