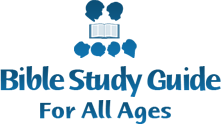 When it comes to a chance to teach my kids more about our Savior and Lord, I jump at the opportunity. The Schoolhouse Review Crew is reviewing Bible Study Guide For All Ages. This company is new to me so as you know if you read my blog that is one of the first things I seek out, I want to know who you are and what you're about - Hopefully you do too!
This curriculum was born in the 70's by a mother of 4 that wasn't satisfied with what she had available to teach her children. So of course she set out to make her own. Studying and working on this took a while and finally the first item was published in the 1980s. Along learning a little more about the company itself - I learned that it is still family run. I love that, I enjoy seeing this more than anything within a company because it means a lot to me because I know it is being pampered and grown with love and responsibility.
And I love this statement from their website:
We believe what Paul said in his letter to Timothy: All Scripture is God-breathed and is useful for teaching, rebuking, correcting and training in righteousness, so that the man of God may be thoroughly equipped for every good work. (2 Timothy 3:16-17)
Let's talk a little about what my family was blessed to receive for review. There are several components to this curriculum and some of which we did not receive but still used and had a blast!
Zachary age 8 and Alexis age 10 has been using the Intermediate Level, which is targeted for grades 3 & 4. Kyle age 13 has been using the Advanced Level and it is targeted for grades 5 & 6.
The workbooks are $5.95 each.
The curriculum is set up to cover the entire Bible within 416 lessons. You study some Old Testament along with New Testament each year.
We also received a set of Bible Book Summary Cards. These cards are like huge flash cards that help you remember the lesson by having pictures on the front of the card that help you tie them together with a story or the lesson. The cards are large 8.5 x 11 printed on heavy duty card stock and have stood up to my kids very well. The pictures on the front are very pretty and colorful and I enjoy the text on back. My kid's have actually enjoyed just playing with these alone!
They are also offering a color it yourself posters that are 11 x15. If you're needing a more hands on approach this would hit that great!
The Bible Book Summary Cards are $24.95.
We use this 3 times a week and try to review the Summary Cards several times a week. The kids actually do this with each other sometimes when it's not even "school time". How great is that?
This could be used for Sunday School, Bible Classes and in our case homeschooling/family devotion time.
I have really enjoyed having this set. I love that each lesson has different tasks to do (no getting bored allowed). The same lesson might have map work, timelines and having to dive into the Bible for the next activity.
I love that my children had to actually dig in their Bibles to help with these lessons. Which it is a huge help that each book, chapter and verse is in each activity.
The lessons are great at helping me to help my kids apply it to their personal life. In the "get active" section of the lessons I have really had some good conversation with my kids.
I love that I can teach both levels at the same time because they correspond.
All in all I really think the price is wonderful & I love the way this curriculum is laid out.
If your needing an idea of some other levels that I couldn't help you with, please go on over to The Schoolhouse Review Crew Blog and read some of the other Crew Members Reviews that had The Beginner Pages and The Primary Pages!