My family has had a lot of fun with this review from The Schoolhouse Review Team.
Gryphon House is a distributor of quality children books and resources for children since 1971. One neat piece of information that I learned about this company is that they are located in my state! I love finding companies that are in my back door!
The book that I was given to review was Global Art. I received a paperback book with a bright cover to draw my kids attention at first sight! This book is 190 pages. Global Art has gained 3 awards and after spending time with the book in our day I can understand why.
Global Art is divided up into 7 chapters which just happen to be by Continent.
The book has over 130 art ideas and projects.
Global Art has helped it be easier to select the right lesson for you by supplying icons for experience level, art techniques and how much planning is involved in the art lesson.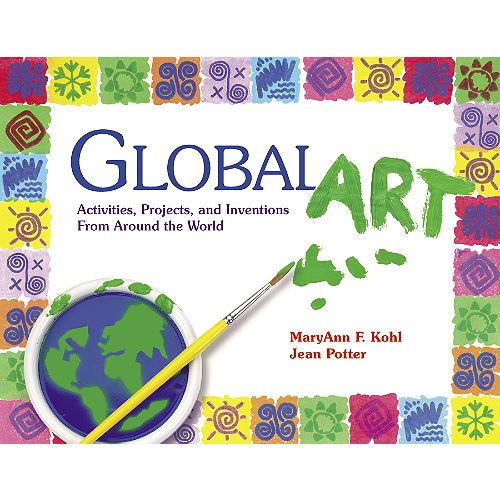 Global Art has easy projects and art for the everyday. The activities that we have done so far are items that I have already on hand. That is always my number one complaint about art projects!! The craft supply list - but not to worry because honestly as I have looked through the book for several weeks and we have completed several of our projects there has been no issue.
I love how this book helps teach geography and history all while teaching an art lesson. We have never needed the globe while doing art but there is a first for everything because every lesson with Global Art we have it out and on the table!
Global Art is recommended for Pre-K - 5th grade. My 2 kids are ages 8 (2nd grade) & 10 (4th grade). Every art lesson we have done has really been fun and engaging for both of them.
Here is a peek of just a few of the awesome crafts we have done:
In this lesson we learned about woman in Central Africa that has worn heavy metal necklaces that are very pretty and decorated for hundreds of years. It talked about how as the necklaces have been copied by other cultures that it was made into an easier version to wear.
Supplies where very simple: Paper plates, markers, paint, glitter and scissors.
Yarn Art was probably one of the favorites so far! Personally I thought all of them turned out really cool. This lesson took us to Mexico to learn about the history and art behind the Yarn Art lesson. These Indians created brilliantly colored drawings with yarn and wax. They were so pretty and detailed that when finished it looked as if it was a painting. Traditionally these art pictures were used for telling myths or stories.
Keeping with the tradition of the Huichol Indians we each choose an animal to do with our Yarn Art and then told a silly story about them.
Supplies - Yarn, glue, card-stock, scissors and we used stencils for our shapes since everyone has a meltdown if they can't draw it just as they want.
FYI - We have actually done another because we had so much fun!!
After using the paper plate for the African necklace lesson I knew that I could probably use the circles for something.
Imaginary Mapmaking!
This was just a ton of fun. I talked to the kids about this being pure imagination. That anything could go! I mean how isn't going to have fun with that?
This lessons history came from Germany. The oldest map of the world was made from a German merchant and navigator Martin Behaim. I loved knowing the history behind this lesson but I enjoyed how it was incorporated into another fun art lesson.
Supplies: Left over circle from paper plate or paper as recommended from the book, crayons, markers and your imagination!
Over-all Thoughts
This book was a wonderful book for easy to apply art lessons. It's only made better by incorporating learning into the lessons. I personally love little pieces of history that are not overwhelming.
My children have actually been able to recall the history from the lessons that we have done.
My kids have asked and initiated the art lessons more than me!
I love that I have all the art supplies already here within my house; I haven't needed one thing from the store!
This book is just plain awesome!
You can buy this book for only $16.95
If your interested please go on over to The Schoolhouse Review Crew blog and read other reviews on Global Art and The Homegrown Preschooler.