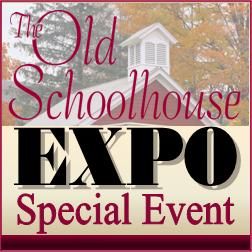 As promised last week - Here is the giveaway for 1 ticket to The Schoolhouse Expo!!
Do you need encouragement friend? I do! This year has been a hard year and I want to get as refreshed and encouraged as possible before our new school year in September!
This year I am looking very forward to attending the Schoolhouse Expo. The Schoolhouse Expo is an online homeschool conference that will run from August 19-23.
How is that for technology? I have to admit, I do love homeschool conferences and I'm lucky that my state offers one every year but lets just be honest. It's hard to go every year because of my children. Sometimes I love taking them for them to interact with me while picking out new items but sometimes I just want the quite time to sit in on the speakers but can't because the kids. So this is a wonderful mix for you!
Stay home in the comfort of your pj's if needed!
No babysitter needed because no one has to go anywhere!
Save money by staying home, no gas in van, no food to buy and no motel stay!
I attended the Schoolhouse Expo several years ago and I am pleased with what I learned at that time.
You get to hear live presentations from some wonderful homeschool speakers & some are even mothers like us! There is another wonderful perk as well, if for some reason you can't attend to listen for a day because a kiddo is sick - guess what? You still get the recorded expo session sent right to your email at the end of the week!
One fun thing too, is they offer Door-prizes!
Who doesn't like to win prizes??
Here are a few of the speakers you will hear from:
Maria Rippel - From All About Learning Press
Jennifer Courtney - Classical Conversations
Go here to check out the entire list.
Disclaimer: This is a promotional post, with admission to the Expo as my reimbursement.