This was a really fun review item for me and the kids. The best part I believe for the kids was to know there was no right or wrong answer on this one!
Let me tell you a little about the company before I go any further.
PeopleKeys is a company that has spent over 25 years studying human behavior in order to offer such interesting items.
PeopleKeys helps parents, educators and students discover different traits within themselves.
For our review we received The Children's Profile - Your guide to greater understanding. This book is available for $15.00.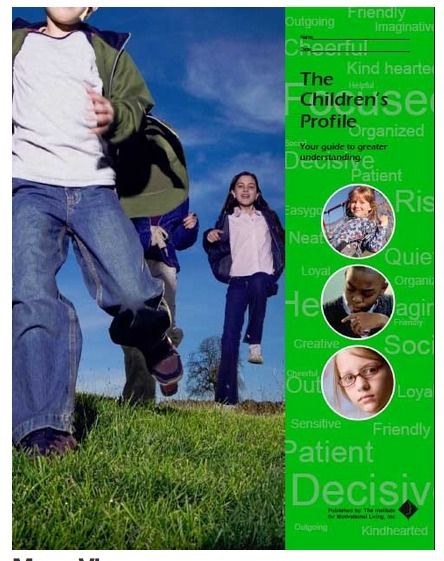 My children are ages 13, 10 & 8 so this was able to be used within the suggested age range for 2 of my 3 children. The age range for this book is 9-13 and I actually think you could use it with anyone older but younger would be very tricky because my 8 year old didn't fully understand each question without some explanations and some more details such as telling him examples.
Okay, so The Children's Profile is a small workbook, only 25 pages that contains only 15 questions for you or your child to answer. The Children's Profile helps discover the child's personality style! The book then has an overview of each of the styles and what the person's traits are.
The questions don't take long at all, I believe we spent about 10 minutes on this and then the kids wanted each of us to read what everyone had picked as their answers. Like I said above, my kids really enjoyed me telling them that no answer was right or wrong!
After the personality assessment we went on to read about each of the personality languages.
We then talked about what personality was and how it affects others around you and how you determine your personality.
Each personality language has several pages that assist you with an adult or child within a certain language.
So out of my children and myself we tested 4 personalities and this was the final results:
Lexi is an "S" personality.
Zachary is an "S" personality.
Kyle is an "I & C" personality.
Then we come to me (smiles) - I am a "D, S & C" personality! Yes that's right I scored almost the same number on all of those! My husband laughed and said no wonder I am moody lol (NOT).
All the laughing aside about me having 3 personalities, I kind of enjoyed knowing that I had some of my children's qualities within and that I knew personally how they felt with many situations.
As for Lexi having a Steadfast personality, I couldn't have agreed more. It stated that 69% of the population is this personality type. However I seen several traits that I thought fit her perfectly:
Loyal, Patient, Good Listener, Kind hearted and Likes to take care of others.
Then when it came to talking about how you could motivate this type of personality it was very clear there were no mistakes! Appreciation and Encouragement.
Zachary was also a Steadfast personality which kind of surprised me a little but like Lexi I was able to see some of the traits very clearly within him as well: Reliable, Sensitive, Kind, Slow paced, Indecisive and Calm.
It went on to talk about what bothered this "S" personality and it was something that was so true for Zac - Sudden changes! Oh no we don't go there because I already learned this was a huge no no!
Kyle being an Influencing and Conscientious personality actually confused me the most until I started reading more about the traits.
Influencing traits that related to Kyle where: People person (HUGE), unorganized, friendly, talkative, cheerful, positive and likes to have fun. Then I went on to see what bothered this personality type and to my surprise I felt this was all about Kyle, he can't stand to feel left out and that was so true and something that happened very recently that determined a friend might not be such a good fit for him. The further I read and discussed these with the kids I knew this was truly 100% accurate! The "I" personality is motivated by entertainment. Kevin and I have talked about this being his love language many times - One on One time!
The other part to his personality was Conscientious which shared these common traits that I see clearly in him: Neat, Sensitive, Respects rules, hard to please and likes to do things right. He has actually made comments before about not wanting to do things if he couldn't do it right, so again this was the right fit for him.
The "C" personality is bothered by making mistakes and this is very true when it comes to his school work. I learned long ago not to really grade his work or mark through anything he had written. It caused huge meltdowns and once I understood the issue I just started telling him on a notepad which questions needed fixed and using a page protector on his writing assignments to edit so that I didn't mess up his work. As to what motivates this type of personality - Praise!
I'm not going to really dig into mine but I feel I have given you a huge amount of information to help you see this item has a lot of information within it and really provided me with a ton of insight.
The Children's Profile was a wonderful asset to our household. I really learned a lot about my children from a different point of view that a lot of times I don't have time to stop and look at.
I think it helped my children to see what they share in strength with me and their siblings.
This was truly one of my favorite items; we had a lot of fun with this!