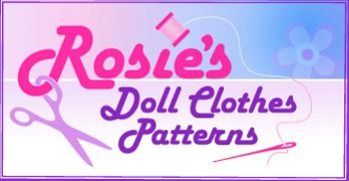 Today I get to talk about an awesome website that I never knew existed or would I have probably visited but wait and let me explain!
Can you sew? I can't! I have tried simple things like straight stitches across some curtains for my school room and bathroom and that's about all. I normally take all the short cuts I can because I am just scared and normally don't know what I'm doing!
The Schoolhouse Review Crew had Rosie's Doll Clothes Patterns come up for review and there are a few things that sparked my interest with this right off...
1 - Lexi is just now at age 10 getting into American Girls and the 18" dolls; she has always been a build a bear kind of girl and has just asked for her first American Girl for Christmas.
2 - The site said it covered all the basics and included videos on each process, so I figured there was the key for me to actually be able to do this!
So after I got choose to review this I have to admit I WAS SCARED TO DEATH! Sewing just does that to me. Alexis was thrilled because we actually only have 3 or 4 outfits for her dolls that she has, so she was excited to get some more!
I must tell on myself here - Funny he - he moment... My sewing machine was ancient; it was passed down from my grandmothers aunt! After trying on it first and having major issues just trying to get it working my husband graciously let me purchase a new one for Lexi and I to have!!
What did we receive?
12 months' worth of online access to "Learn How to Make Doll Clothes Video Course with 8 Free Doll Clothes Patterns". The patterns include:
Underpants
This is recommended for ages 8 and up!
How much is it?
How we used the item?
At first we just logged in and got ourselves familiar with the website the first day. Then we started watching some of the videos. I must brag on the details and techniques in each video, with me having no real knowledge of sewing and watching the videos with Rosie I learned a ton! At first the videos help you learn all the basics about sewing, helpful tips on setting up your sewing area. Then it helps teach you how to print out the patterns and use them against your fabric. She helps you learn about stitches and how to keep them straight along with hems. Elastic is something I've never worked with and I shouldn't have worried to much because she covers everything! She taught how to choose the elastic, types of elastic and how to thread it. Just in the beginning courses I learned more about sewing than I ever thought possible. I am grateful for the knowledge from her introductions. The great thing about each step is it's broken down in to small videos so you don't get overwhelmed with it being 30 minutes long, each video is anywhere from just seconds to 5 or 6 minutes. You can always stop and go back over any video that you need replayed.
Now once we had watched all the courses for How to Sew Doll Clothes we moved on to the Course Bonus Patterns which are listed above.
First we watched all the videos about the pattern we were making (all of them). Then we went back and printed the patterns out, we made sure that they were measuring the proper length and then cut them out. Next we moved on to cutting out our fabric which we had lots of fun picking out for different things at Wal-Mart. After we had all the pieces together the way the video had instructed and it was time for the sewing to start we would take the video and watch it again then sew the instructed parts. We moved on like this each step we needed to sew. The videos where normally only about 2 minutes long and then we would sew and move on to the next step. Finally, guess what? We would have a completed piece and move onto another clothing piece.
We ended up making several shirts in different patterns and we totally got better as we made more. We actually only made one pair of shorts because Lexi got the idea from playing with some I hadn't completed yet that we didn't have to finish them because it made a skirt for her dolls, which she loved! So yes we altered the pattern for my daughter. We have only made one nightie because I just ran out of time but we will be making more for sure! She also had the idea that the nightie pattern could be used as a dress for Sundays. Love her thinking.
What we thought?
Over all I must just say how relieved I was to know how easy this actually was after getting started. I can't tell you enough how her videos walk you through EACH STEP. She will not leave you asking a single question.
This was perfect for Alexis and me to bond over. Both of us had to learn new things, be patient with each other because being a new sewer and the short fuse I'm known to have, this took a lot of patience! I done well and Lexi helped me honestly a lot! She didn't sew a lot just because she is only 10 but she cut patterns, cut fabric and helped pin fabric together and of course she picked what each clothing piece was going to look like from our fabric choices.
I have to recommend this to everyone. She can teach anyone no matter the age. Her videos are complete and I just am happy with everything from her website.