Math is either something that is easy to you or it comes hard. Each of my children comprehend math differently. I have figured out with them if they can watch it being done it will always make it easier for them to learn and understand. We need bite sized pieces at a time and repetition.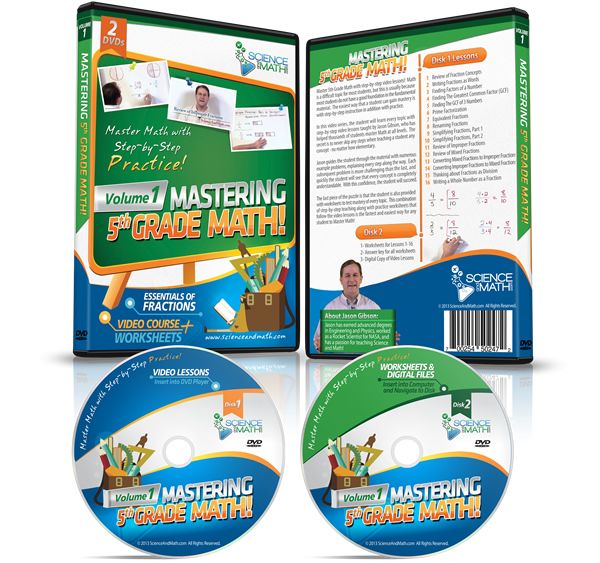 Lexi is in 5th grade and is 10 years old and only has been introduced to Fractions briefly.
ScienceandMath.com is a curriculum company that provides high quality math and science courses for children of varied ages.
We received the physical product of Mastering 5th Grade Math: Essentials of Fractions which included a DVD package of 2 cd's. Disk one includes the lessons to play in your DVD player and has step by step lessons and instructions for the 16 lessons. The second disk has the lesson worksheets and answers key.
When we got the package I sat down, watched a little of the lessons to get familiar with the style teaching and product. After watching a few lessons I then went to my computer and used the 2nd Disk containing the worksheets and digital files and printed several lessons out in advance. I would like to point out that there are several worksheets per lesson to help if there is additional practice needed.
Lexi and I then sat down together and watched the first lesson. I was pleased that Jason (the instructor & founder) provided such great details for her to understand, with her having hardly any knowledge of fractions she done really great with the first several lessons. We discovered that Jason Gibson worked as a Rocket Scientist for NASA during our review and Alexis really loved that. I liked how he explained very thoroughly the problems he was working through and how he used different colors to explain some of the steps.
The lessons are not very lengthy, about 10 minutes or so which is great because it didn't bore her. After the lessons we move on to complete a worksheet or two bringing the total time we spent on a lesson to about 20 - 30 minutes.
Fraction Concepts
Writing Fractions as Words
Finding Factors of a Number
Finding the Greatest Common Factor
Some topics we have left are:
You can purchase the same item I have for $15.99 or you can purchase the download version for $14.99.
From a momma that watches her daughter struggle and hate math I was very pleased that she didn't seem to have any negative remarks yet through the lessons. Jason telling her to imagine things as a pie or pizza really helped her to where she has actually drawn out pizzas for some of her problems so she could visualize it better. The price is wonderful for this homeschool momma, normally I am on a very tight budget with our family and this is something that I feel is a huge value. I personally stink at Fractions and have enjoyed the review so far. Lexi has laughed at me a few times working out some of the problems but we are bonding over something that is difficult to us both.
ScienceAndMath.com has been awarded some great awards!