My family had the awesome pleasure of reviewing Spelling You See from Demme Learning! This is a sister company of Math U See which you all know my family loves! So I was beyond excited to see what all the fuss about this new project was.
Spelling You See is for elementary ages. It has no spelling lists, no tests and no rule memorization. Currently there are 5 levels available however there will be 7 levels to complete the series.
My family just got to meet Mr.Steve & Mrs Holinga from Demme Learning. My children love Steve and really thought it was beyond cool to meet him at the conference a few weeks ago however upon talking with him he introduced me to Mrs. Holinga and I was able to speak to her about us reviewing her items! It was really neat to have that personal interaction with her for a few moments. I shared that we were on the review crew and had the PDF version and at first I was scared that it wouldn't work for Zac but that after 5 lessons we had been doing great! She was pleased to meet Zachary and I and was glad that Jack & Jill was working out so far too!
Dr Karen Holinga is a former school teacher and professor with over 30 years' experience working with children. She's a qualified reading specialist and has helped hundreds of children become better spellers and readers.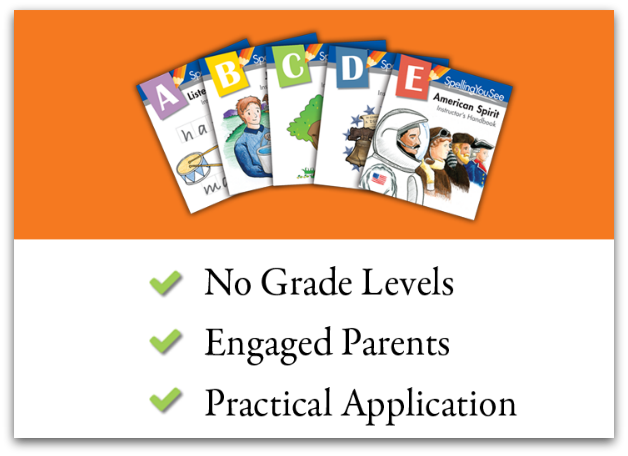 The Instructor's Handbook is $16.00 and the Student Package is $30.00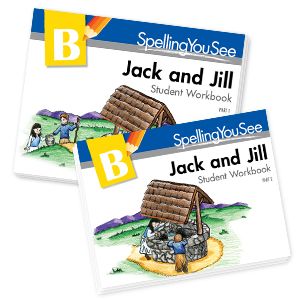 Jack and Jill is the second level in the set. This level focuses on moving from the phonetic stage onto the skill building stage. Jack and Jill uses nursery rhymes to teach spelling and to introduce new words. Spelling You See teaches small chunks of activities daily to enforce spelling and writing. There are 36 lessons divided into 2 books. Each worksheet has 5 parts A through E. A day's lesson consists of 2 worksheets, 1 page starts with presenting the nursery rhyme and having the child read and copy a small part of the passage, the 2nd page works on words for the student to write through dictation.
What do you need?
You will need the Instructor's Handbook Set & The Student Workbook set.
I was asked on facebook a few days ago from a friend if the Instructor's Handbook was a must have - The answer is a huge YES. The Instructor's handbook has all the dictation for the student and guided instructions for each lesson. You cannot use the student workbook alone for a completely useful program.
Because I was supplied a PDF version I actually needed colored pencils or highlighters to use with our level but Spelling You See sells the pencils with the Student Workbook set.
How have we used this?
Zachary is a struggling reader; he is 9 years old and tries so hard to read. We decided to start at this level because he writes easily and knows all the sounds and it just seemed to be the right place for him to start because I didn't want to challenge him to much at first. Once I got the set and downloaded it to my computer then I printed it out for use. I printed both student workbooks and hole punched them to make a book. I downloaded and printed my teacher text too. Once I had everything printed I actually started panicking a little because I thought this might not be a good fit for Zac. I was afraid that he was going to think it was too babyish.
Lesson One was all about rhyming and short a, so he enjoyed reviewing a skill that he felt confident in. He was able to read the nursery rhyme almost completely without my help. I made sure he was pointing to each word and then I read it back to him ( the instructions say for you to read it first and then go back and read with your child, but I knew he could do it without me). After you read the passage you normally are searching for something specific, maybe capital letters, rhymes or even word endings! After that the we copy some of the passage. Then move on to the second worksheet that has dictation. Zac actually really enjoyed the nursery rhyme theme!
We have worked on lessons different amounts of time but normally we have been able to do 2 lessons a week. The lessons are short enough for us that Zachary can complete 4 pages and not feel overwhelmed and it still keeps his attention.
He actually asks to do this first because he enjoys it that much.
Moving on to lesson 4 I was really ticked at the enjoyment that Zachary has had for this. I really have been surprised that he enjoys the nursery rhymes! We have sung and had fun in each lesson so far. Lesson 4 starts adding some additional skills to the students' worksheets and Zac was able to use colored pencils. I like that as we have advanced through the lessons we have added some additional skills to work on.
Currently in lesson 6 we have worked on writing skills, dictation, vowels, word endings, rhyming and overall reading skills.
Overall I really love the way this program is laid out.
For the teacher it is an extremely easy program to use.
It doesn't take but a few minutes each day to make sure we are reviewing skills needed for him to become a better reader and speller.
What I didn't like:
The only thing throughout the entire review process and weeks of using Spelling You See that I can find that I didn't like is the font used. With a struggling reader like Zachary these little guys confused him, even in his writing. I would like to see this corrected because at my son's stage in learning and writing he doesn't recognize this font. It caused him confusion and me more work to fix before each lesson. I would just write through it before we started each lesson so that he wasn't confused by the writing.
~~~~~~~~~~~~~~~~~~~~~~~~~~
Each member of our Schoolhouse Review Team reviewed different levels so if your looking for more insight please browse around out Team Blog!