I can't begin to tell you how excited I was to get this set.
I received Essentials Manuscript Complete Set to review with my son. I choose to use this with Kyle who is 13 years old and has a good knowledge of this style learning. Essentials is used with children 7 and older who can read. Essentials is to help read, write and spell but the program doesn't actually stop there. Essentials incorporates phonics, vocabulary, grammar and composition practice! This set is $243.00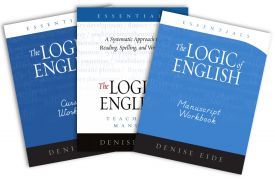 Did you know that more than 40% if American adults can't read proficianly? How sad is that! I want to make sure that my children each have a great foundation to learn.
Essentials teaches 40 different lessons that are filled with the basic 74 phonograms and 30 spelling rules.
Okay here is a breakdown of what items we received and used:
Essentials Teacher's Manual - This was a huge help and I can't imagine anything being more clear on what you are to do daily or during the course of your lesson! Clear scripted instructions on everything is waiting on you! In over 40 lessons it helps you go through step by step. Most lessons are divided up into 3 steps, phonograms are up first, then onto spelling and last your grammar/composition and dictation.
Essentials Student Workbook (manuscript also available in cursive) - This is one reason I was so excited to try this curriculum with Kyle. We have been using a spelling curriculum without a workbook and since he is 13 I thought it would be a great change for him. I was so happy I was right. We quickly worked through many lessons because of his prior knowledge. Several of the first lessons where completed within 15 minutes simply from his prior knowledge but we came to a stopping point and began to spend more time on each lesson. Some of the lessons have took us over 40 minutes to complete but it is very easy to lay aside and pick back up at a later time or tomorrow. We have been working through a lesson a day and normally it is completed from beginning to end within 45 minutes. If you have smallers there is a section in the teachers manual about how to go about your lessons. The layout of the workbook is very simple and clean being able to keep attention spans on the page. The workbook is a huge 484 page book! Yes it is huge but it is totally awesome! Each lesson really engages different types of learning styles (auditory, kinesthetic and visual) which is something I look for regularly before I decided on a curriculum to use with my children.
Spelling Journal - This is a small notebook that helps the student have a reference to the rules that he is learning. This really helps master those hard words that they are misspelling often.
We received the basic phonogram cards, spelling rule flash cards and game card decks!
The basic phonogram cards and the spelling rule cards are large and sturdy for handling. Easy to read and clear to understand.
Last but not least Phonogram & Spelling Game Book - This is an awesome way to enhance the learning that is taking place in the program. You get 2 decks of game cards and the book. The Game Book gives you instructions to a wide variety of games to play. All 3 of my children actually played games with this not just Kyle. Games are a great way to learn without making the child feel as if they are doing "school". Gaming is something we do often in our normal school routine. Dragon was a favorite for my kids, I think we have played that over 20 times!
Final Thoughts
My favorite about this program is it is so easy to teach. It takes care of all the issues I have always had about teaching spelling/English because everything is scripted for me so I make no mistakes. There is simply no way for me not to be comfortable teaching with this. The workbook was a hit, most of the time with anything besides Math I stray away from workbooks but I must brag on this simply because it was wonderfully made.
I must also tell you that they have developed a really cute app go check it out here.
Here is a great tour of the curriculum from Logic of English: