Who is Kinder Cottage Publishing?
Kinder Cottage Publishing is a family owned publishing company that was started in 2012 because they wanted to ensure that their children grew up with a love for western civilization. Their goal is to provide quality materials for parents to educate their children.
What did we receive for review?
My family received two hard back books from the Peter Rabbit Series.
A little about the books:
These books are hardback books approximately 60 pages each. The Peter Rabbit books are ideal for ages 3 - 9. These are adaptions from the original books published by Henry Altemus in 1917. I would have never thought these awesomely wholesome books where over 90 years old! The pictures have been preserved and are beautiful. Kinder Cottage edited them to modernize the text, for example the word velocipede was used on the original texts to mean bicycle. Obviously, these are easier for children to read since the re-publishing.
In this title Peter goes on a fun adventure after his momma went to run errands. Peter adventured to Mr.McGregor's farm along the way he encountered Pollie Possum and made her drop her basket of persimmons! He then found Little Goosie Poosie and helped her find what happened to all the water! Zachary loved it when Peter was dancing and feel into the pond. Little Goosie Poosie showed Peter around the farm and made friends with all the animals. He eventually found his way home with the help of Old Jim Crow. Mother Rabbit was happy he was home but frightened by all of his adventures!
Peter was suppose to be gathering breakfast for his family however he got sidetracked as normal and found himself some yummy green apples to eat. He felt very sick from eating them and once he had gotten home Mother Rabbit was very upset with him and gave him a spanking. Mother Rabbit was going to visit that day and let instructions with the 4 children to play and stay away from the brook but Peter wanted to be a Pirate so he went to Tillie Top - Knots home and found a soap box to make him a boat. The brook took him faster than he realized and he entered the sea very quick. Meeting Granddaddy Whale, Old Man Shark, Johnny Crab and Sammie Sea Gull along the way. Finally Sammie got him back to land so Peter could find his way home!
How did we use the books?
All along my plan was to use these books with Zachary age 9. We have read many tales of Peter Rabbit before and he enjoys them and since the age recommendation was for 3-9 I figured it was a great fit. I however was right but I didn't factor in the fact that my darling daughter (the book lover) would want to read them too!
I used these books two different ways.
With Zachary we sat and read them to each other. With his reading ability not really being to this point yet I read the majority of it out loud for him. When he could read the smaller words I cued him to do so but I have to be honest it wasn't really my point in getting the books expecting Zachary to read them to me. I simply thought he would enjoy them being read to him. I was right he loved these books and we have read them more than once.
Alexis is ten and loves to read. She reads anything that comes in this house and I should have expected for her to take notice to them. She read them both the first day the books came! She thought they were cute and loved the adventures he went on. She drew a picture of Peter too!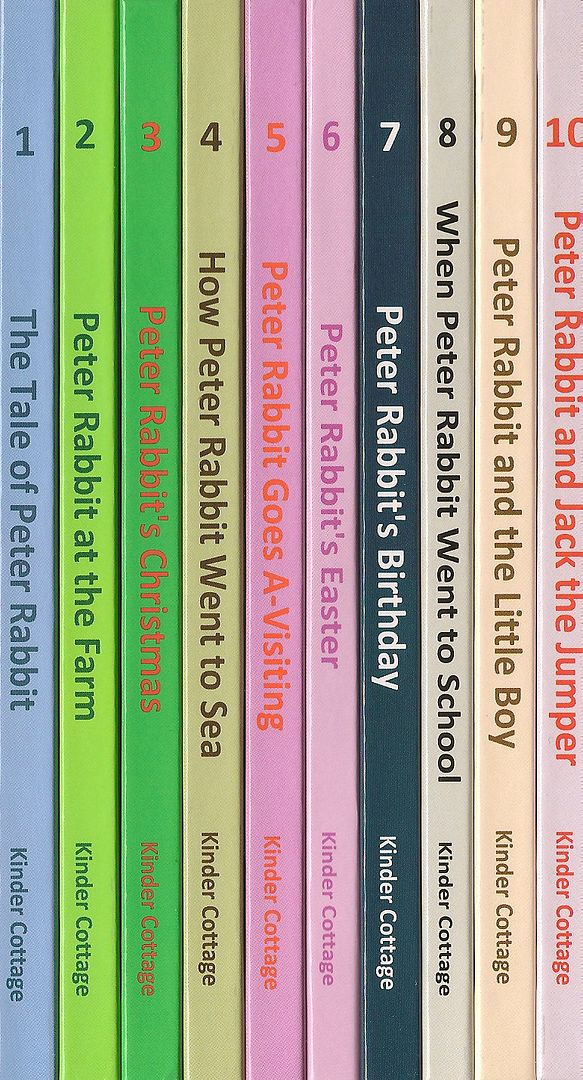 What did we think?
I personally loved the books and so did my children. Lexi actually asked if we had the others because she noticed the numbers on the side. I believe I will try to get the rest for them and at only $4.00 each or $30 for the entire set of 10 books I think it is a great price for sweet, wholesome books.
Perk for you!
Enter "TOS" at check out and you will receive a 20% discount off the product price on our website!