My family was asked to review two Go Science DVD's from Library and Educational Services and with the help of all three of my children we decided upon these:
Volume Four:
Motion, Friction, Electricity and Light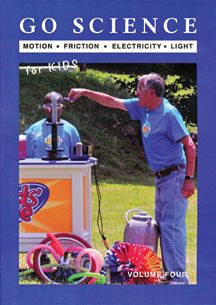 Volume Seven
Engineering, Design and Flight
Let me tell you a little about Library and Educational Services first. Did you know they have been around for 35 years?! That is a huge amount of time for a business to thrive! They are a small family wholesale distributor for libraries, schools, day-cares and more! The CD's, DVD's and books that they provide they take careful care to align them with Christian values and morals which pleases me greatly.
What did we think & how did we use them?
Let me tell you a little about Volume Four ~ Motion, Friction, Electricity and Light first.
Ben Roy, the host, is full of joy through each demonstration. He is so great at teaching the relevance of God in all science. His favorite saying is " Every time we learn more about science, we learn more about our Creator - God." He is a very educated man with a degree from the University of Tennessee.
When you first start the DVD you will have the option to watch all or choose which topic for that day. We would choose what topic we were interested for the particular day and watch that session. Sometimes we watched several experiments done from Ben and his volunteer audience but some sessions didn't have as many as the others but personally I didn't find that it mattered. Some segments lasted 15 minutes but most was under that making sure to keep my kids attention! Watching the science demonstrations being done was really neat for my children. It gave them great ideas on how to use some very simple items around our home for some really neat fun. Example the Floating Rice experiment for Friction was awesome! Friction of course is when two things rub together. So this took rice in a bottle and a skewer pushed down in the bottle to see if you could lift the bottle up. The trick was you couldn't not until you pushed the rice down and packed it tight against each grain. Once you did that and inserted the skewer guess what? You could pick the bottle up with the skewer!! It was really neat and my kids actually have tried this and the bouncing balls trick for motion!
I enjoyed the variety of topics that was included in this one. This DVD is 55 minutes long and was recommended for ages 4-12 and one of my favorite things to share about this Go Science DVD was that it was produced in the USA!
Volume Seven Engineering, Design and Flight.
Some of the experiments we watched were walking on eggs, making a mini water pump, vinegar rockets and flying rocket balloons! My kids really enjoyed this DVD best. I guess it just appealed to my boys' best.
This DVD we did the same took it a little each day until we had watched all the exciting experiment/demonstrations that he had to offer.
This Go Science DVD is 56 minutes long and is recommended for ages 4-12.
Final Thoughts
My children thought the DVD's where cool however my guys did get a little bored watching them. I asked them why and I believe that they tried telling me because each demonstration went in the same way, same routine. Please don't misunderstand my guys enjoyed the experiments and I believe learned more about science through these but I do not believe they would like to watch the others. I believe that actually going to one of his camps would be awesome and totally keep your attention so much better than the ones on DVD for my kiddos.
There is a total of 7 titles in this series totaling over 80 demonstrations! Each DVD is $8.97
Check Library and Educational Services out on Facebook