Today I get to tell you about a really fun and neat review item that I had the pleasure of having from The Schoolhouse Review Crew courtesy of Heirloom Audio Productions.
Under Drake's Flag is an audio theater that was provided to my family for our listening pleasure.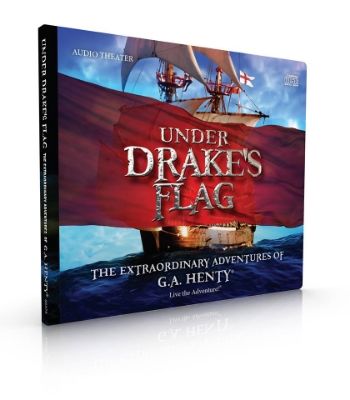 We received a 2 CD set that was accompanied with a study guide inside the CD set, however we also was given the option to use the PDF study guide (which my family did not do). The 2 CD set costs $29.95. This set is recommended for ages 6 and up.
So the name Under Drake's Flag ring a bell?
It was a wildly popular book published by G.A.Henty.
This is about Sir Francis Drake and sailing aboard his ship. We had a little background information about him that got my children curious about him from the start. Did you know that some people considered him a Pirate? He had a huge love for Christ and had strong principles for guiding his life. He was knighted aboard his famous ship by Queen Elizabeth. He was also the first Englishman to navigate the globe!
Now I know you are wondering well what about G.A. Henty? He actually wrote a book entitled Under Drake's Flag and this audio version has been adapted from that book. He was a powerful man ranging over 6 ft tall! My 14 year old is almost 6 ft! Henty has written over 122 books that became essential reading material for English schools. He wrote about history and lived it out too!
How we used this review?
Honestly we simply inserted our disc into our cd player and listened to it almost all in one sitting. The audio drama is 2 hours long so a nice feature about listening to the CD was that each chapter was numbered so if we did stop the CD for any reason other than to simply pause and come back to listen it was easy and simple to pick back up where we stopped.
There was a small study guide included with the CD set that we did use a little but mostly just listened to the story for fun since it was our summer break.
The study guide was awesome though! I would like to point out that it had a lot of information about making sure the children comprehended the story line. It provides words that may be hard for the children to understand so that can be addressed. Also there is a "thinking further" section that helps with critical thinking more or less.
Our thoughts
With the story taking place in the 1500s it was somewhat different than what my family is used to listening too. We had no issue comprehending anything really within the story frame but my children didn't personally enjoy it as much as I hoped they would.
There was lots of adventure to keep us entertained such as storms, battles both on land and sea, sharks (which is something that is a favorite of my smallest son) and shipwrecks!
I personally enjoyed it very much. I thought that the Christian character throughout the entire story was awesome and made me appreciate the author and story more. It was a very wholesome story for my children to be introduced too and I enjoyed that it taught facts about the historical events within.
The kids said that they liked the fact that Ned and Gerald went through a lot of things that were hard but still fought for things that were right and was glad they were Christians.