Have you ever been interested in learning more about the Bible? If so I have something to introduce you to.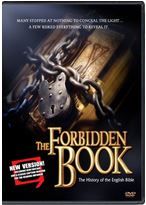 The Forbidden Book DVD is 58 minutes long. These DVD's are for a general audience so after looking more in-depth to the topic we only asked Kyle to watch this with us. We knew that the content would be over Lexi and Zachary's head and we were right, however, they did stop by and watch a few parts here and there but not the entire DVD at one time.
We learned so many facts about our Bible becoming a book we could read. The history behind it was very eye opening and really made me sad that the brothers in Christ had so many obstacles ahead of them. However I am thankful for their love to God and for spreading the love of Christ with others or we would have never had our Bible today.
In the 1300's a Bible would have cost a Priest the whole years' salary!
Did you know that William Shakespeare quotes the Geneva Bible over 5,000 times?
In 1663 the first Bible was printed in the US.
In 563 AD there was a Bible College started however in secret, as an underground movement.
Erasmus had to travel to another continent to make a different translation of the Bible. (Greek to Latin)
Tyndale was responsible for the first English Bible. He eluded his church and King for over 11 years before being caught. He was a very intelligent man speaking over 8 languages. In 1536 Tyndale was captured before being burnt at the stake with his Bibles he was asked for his last prayer request, which was for the Kings eyes to be opened.
The next year in 1537 his final prayer request was answered because the King allowed the first English Bibles to be printed.
This next fact that I learned was so heart breaking because this is exactly why I homeschool today and I am thankful for these people that paved a way for me to continue even when they were persecuted for it, In 1517 5 men and 2 women were burnt at the stake for teaching to their children The Lord's Prayer in English!
The Geneva Bible was the Bible that the Pilgrims brought to our land with them. It was the one that helped lead Pocahontas and her people to Christ. Really awesome fact there isn't it!?
The King James Bible which is the Bible choice of my family was made in 1604 with over 50 different scholars working on it however there was a stipulation; there could be no side notes allowed.
This is just SOME of the awesome facts that are covered and that my family thought was awesome! I can't begin to tell you how many awesome facts are within this DVD. I actually could watch it again and get several more things out of it I am sure. I do however plan on watching it again and I totally plan on buying another DVD soon.
For only $19.95 this DVD is so totally worth every dime you would spend.
My husband, Kyle and I really enjoyed learning all the history behind our Bible. All the work and sacrifice it took. There was a lot of information that I didn't mention because if you found these facts as awesome as we did you need to buy the DVD!