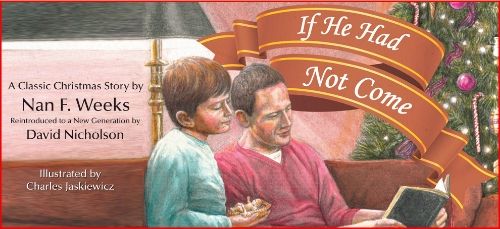 My family sure does, my husband above all others in our household loves it most. I love the cozy feeling that the season in general brings but most of all I love celebrating Christ.
Originally by Nan F. Weeks and told to David Nicholson one day while at church. After the initial story was told to him he never forgot the deep meaning of thinking and wondering what if Christ had not come.
How Did We Use This?
Together my family sat down to enjoy this book. We love cuddling on our large sectional while we relax together. I read this book aloud to my family.
The story goes a little something like this (I don't want to give it all away but I want you to understand what the book is about). A small boy named Bobby was so excited about Christmas and before going to bed Christmas Eve his father read from the bible like they always did, but tonight a phrase stuck with him more so than any other night, If I had not come. As he laid in his bed trying to fall asleep he continued thinking about that until fast asleep he dreamed about how our world would be if Christ had not come to save it.
No Christmas, no tree to celebrate no presents either!
During Bobby's dream he went looking for answers. He noticed the factory was running today of all days - Christmas!? He was so confused so he went inside to ask why, but the people didn't know what he was babbling about and didn't know what Christmas even was.
He thought he might find more answers but all he ended up getting was rude comments, bad attitudes and just getting in peoples way.
He learned without Christ coming people wouldn't care for others, no churches, no places to help people who are sick or in need.
Thankfully he suddenly heard the bells from the church and woke up to find that it was all just a dream and a horrible dream at that. Instead of little Bobby rushing down the steps to find what was waiting for him he paused and prayed thanking Jesus for coming to our lost and dying world.
Some additional ideas are in the back of the book to help you discuss this in a Sunday school class or just in general with your family. Also there is a Going Deeper page that allows you to look deeper within the Bible and the Gospel Message.
Our Thoughts?
Each of my children really enjoyed this book. The book really is a thought provoking book. It is recommended for ages 6 and over and each of my children are over that age and could understand what the book meant.
We had a great conversation after reading this and even took out our Bibles and found the passage that was based on the book
We talked about some ideas on the Going Deeper page to get a better understanding on what Jesus coming to Earth did for each of us.
Want a Copy?
You can get a beautiful book just like the one sent to me for review for only $18.95 or an eBook version for only $3.99.