First review of 2015!! Can you believe it? I can't wait to show and explore new curriculum and publishers with you this year! So buckle up and let me take you on a quick trip.
Great Commission Films has produced a wonderful new documentary on the public school system and its history called IndoctriNation.
For this review I was sent a copy of the DVD. The DVD is 102 minutes long and retails for $19.95. They also offer a book and DVD/book combo.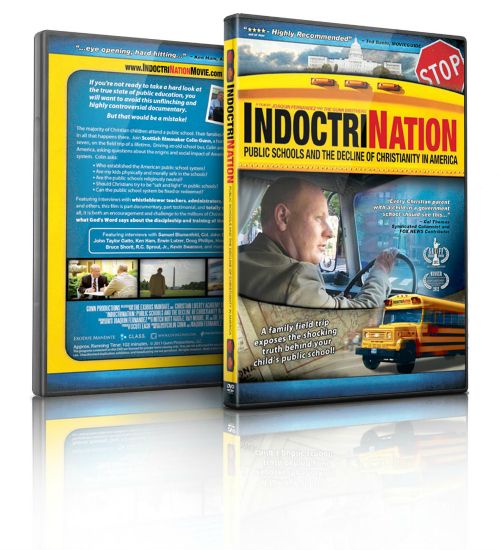 When I got this review in the mail I alerted my husband that I had us a movie to watch. I was interested in this movie because I have heard about it buzzing around the homeschool community for the last several weeks leading up to our Crew getting the review opportunity. I explained to hubby what the point in the movie was and it peeked his curiosity too.
The movie starts with homeschool father of 7, Colin Gunn taking his family on this huge field trip to discover all these facts on the traditional yellow school bus!
During the movie there were several instances that hubby and I just looked at each other with a dropped mouth. The facts and history that is within this documentary is incredible. This was a huge history lesson on the school system and who initiated several large movements that transformed the school system all together into the system we have today.
Let me stop at this VERY MOMENT and say that I homeschool my children for personal reasons and faith based reasons. I also have many friends that send their children to the school system every day and teachers are my friends too but for my family this is our decision and after watching this it only pressed upon my husband and I why the choice we made 10 years ago is still a great choice.
Let me tell you some eye opening facts learned:
14 nations are ahead of the US in reading ability
1/3 of high school students drop out ( I was one of those!)
30 million adults over 18 can NOT read a simple sentence
The most disturbing facts presented within this was the way that public schools can present birth control and the liberty to educate about gay and lesbian issues to elementary children and the parent's aren't allowed to know or participate. Condoms where actually given at school wrapped and presented as lollipops, if the child asks for one the teachers or counselors are forced to give one and NOT alert the parent! 10% of children are actually targeted by school staff for sexual favors. I know that all people have to worry about sexual issues in our society however at school our children should be protected.
I guess the part of this movement the bothers me most is that children can't talk about Jesus or the Bible with in those same walls. I actually have personal experience with my oldest attending school for his kinder year for 3 weeks and while he was saying his prayer one day the teacher came over to him and patted his shoulder and said "stop that you don't have time you need to eat." Hence the reason he attended for 3 weeks and we homeschool.
Another huge issue in the public schools is drugs and alcohol. Studies show that 1/2 of all high school students do drugs or drink normally. Drugs are such an addiction and it is so sad that children are getting such an early start on something that will ruin their lives.
Then it came to even more topics that really hit home, see I have 2 boys and my boys are just that, typical boys, whom do not sit still well or learn by reading. Part of the documentary talked about this very issue with boys being in the majority of medicated students. This would be my 2 boys if they had attended public school in elementary! I have NO doubt.
This quote was so true from the film "Education isn't bad; Schooling is bad."
In the 1800's the literacy rate was 99% which leads me to wonder why aren't we still educating that way?
I highly recommend this movie for any family whether you homeschool or not.
I loved the way that the school bus was tied into every aspect of this movie! Great theme.
Hubby said" This was extremely interesting and very eye opening. Tons of facts shows public schools are just like colleges, all are against God. Great history lesson on the public school and how the people and doctrines changed it for the worse."
We are allowing my oldest son (14) to watch this as part of a school study himself!
Find IndoctriNation all around socially:
Facebook,
Twitter, Vimeo and YouTube.