Apologia Educational Ministries is a big deal in the homeschool world. You have had to hear about it along the way. They offer wonderful science curriculum and worldview/biblical books and curriculum too.
Today I get to tell you about a neat new product they have - The Exploring Creation Field Trip Journal.
My daughter has been reviewing this for me for the last few weeks. She is 12 and loves sketching, drawing and notebooking and this was the perfect thing for her.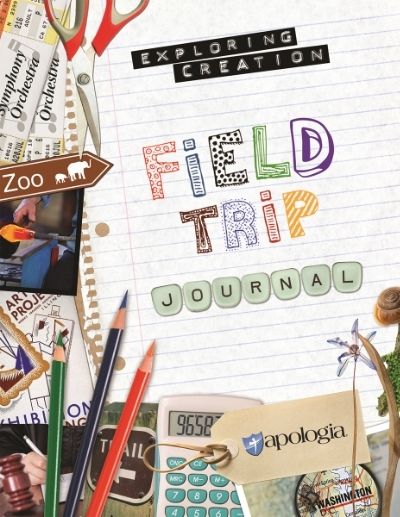 When getting the journal the first thing I noticed about it was the thickness of the pages. The journal has very thick cardstock so no matter where you are you can sketch or draw and you can't mess the page behind it up with markers or leave indents on the page behind. This is one huge issue my daughter has when projects like this come up, but she didn't have that problem with the Field Trip Journal.
There are tips for preparing for a Field Trip inside too, just a good tip for the kiddos I already do the majority of what it suggested.
I loved how they had Field Trip Ideas for you too. Sometimes you think of a Field Trip by being some trip that takes you a few hours to get too, well my family over the years have found places to visit near us that I never knew existed. Apologia has added an extra to the book here by giving you a code to access additional information for virtual field trips and giving state maps!
Then the pages begin being fun for the child.
Lexi then sketched an outline of our state North Carolina and went to listing everywhere we had ever been, I told her she was in no way going to remember them all but I have to say she came pretty close.
The next sketch page is for places you have explored in the US. She had a very few to list there but what she did have she had great memories about so that made it better. However she warned us that she needed more when logging these (lol).
Then you forward to the Field Trip Pages, these are pages that are for specific trips. The pages are really cute, they are like scrapbook pages just waiting on decoration and record keeping.

We have went on a few adventures just for this book the last several weeks however she did log some trips that have been a personal favorite to her as well.
Here favorite place in the book has been the My Special Spot. I believe I have taught my daughter well in taking time to enjoy God's beauty around her especially when life gets busy and stressful. I have a special spot I enjoy depending on the weather and so this was a good fit for us because often throughout life I have expressed to my kiddos to take time for them before destroying from within.
You get a special spot for each of the 4 seasons.
BTW, we have 2 of the exact same "Special Spots" which I loved. May come in handy as she gets older!
Nearing the end of the journal you have the freedom of just sketching within the Thoughts & Drawings As I See It section.
This was another favorite section for Lexi because she loves to sketch things out and she is one of those type people that likes to do her own design so these pages allowed her to do just that. She had freedom.
Overall my daughter loved this Field Trip Journal from Apologia. I think it is well worth the $22 that it sells for. This becomes a keepsake after all the time and effort that is put within, she loves keeping her artwork and notebooking/lapbooking projects and this is totally no different.
You can take a peek at sample pages from the journal to better understand if this would be a good item for your children.
Find Apologia on Facebook, Twitter, Pinterest, Google+.