Memoria Press is simply one of my favorite publishers. When I first started homeschooling I didn't know much about them but as my children have gotten older we have used many products from them.
Today I get to tell you about a review item my oldest son Kyle has been working through; The Book of The Ancient Romans. I was sent the entire set for review purposes, the set came with the Teacher Guide book, student workbook and the student reader (text). The set retails for $39.95. This set is recommended for grades 6-9 Kyle is finishing his 9th grade year and is 14 years old.
We have studied very briefly the history of Ancient Rome, so this was a great study to allow him more knowledge on a topic I really felt he would enjoy. See he is my history lover, he gets it from my brother (that gene totally skipped me).
The way we approached this program was we would talk about the facts to know and vocabulary that was in the student workbook. Once we had covered those topics together Kyle would move on to read the student text part of the lesson. Then he would come back to the student workbook and answer the comprehension questions and sometimes do the activities with the lesson.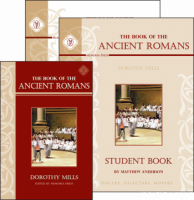 Some lessons took 2 days for him to complete, so some weeks we only completed 2 lessons but other weeks we covered 3. Three lessons in one week were the most we could covered. Normally we covered the facts to know and vocabulary on the same day he would complete his reading. If there wasn't a lot for him to read he would go ahead and complete the comprehension questions.
There are lesson reviews every few lessons. This normally covers all the vocabulary that has been taught and reviews all the important people and places. The hardest part for Kyle has been during these reviews with the Who Said That? section. He has had great difficulty remembering who said what! For the first 2 reviews I wrote down the choices for him and he was able to do well with picking and choosing that way. I am all for helping my children. I didn't give him the answer I just provided more information for him.
We have been using this for almost 5 weeks. We are completing lesson 14 today.
We have covered a wide array of topics here is a summary of some of them:
Founding of Rome, Seven Kings, Conquering Italy, The Character and Religion of the Early Romans, Struggle between Rome and Carthage and The Revolution that made Rome an Empire.
Here are some thoughts from Kyle:
I have learned a lot and have formed my own opinion about what is right and wrong from the providences and how they were ruled. I have learned the politics of government trace back to Rome. So far I have really enjoying learning the history of Rome.
The only bad thing about this is I think there is too much reading in some of the lessons but I do like how everything is laid out in the student workbook. It is very easy to use.
You should really check out Memoria Press they have wonderful curriculum to offer.
Find Memoria Press on Facebook and Twitter!