Who doesn't love to learn outside of a normal text book? I know all three of my children love to learn all different ways. The Geography Drawing Series is from Brookdale House and is inspired from the Charlotte Mason method.
Brookdale House is a homeschool curriculum publisher.
My family reviewed Drawing Around the World USA ebook edition. This item retails at $22.95.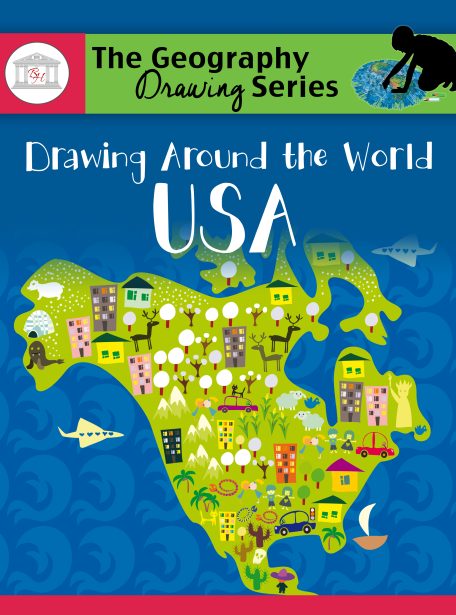 Drawing Around the World: USA is a very simple, fast method in teaching the geography of the United States.
I personally used this with my smallest child. He is the only one that hasn't really had an introduction to the states, capitals and facts about each state yet. He is 10 and drawing has always actually frustrated him but we came to an understanding that I would not show his work on my blog for this review. I am sorry but that made him feel much better about being able to do the review and learn instead of being self conscious.
A major plus to this curriculum is that it is super simple. Very easy and lessons do not take long at all! Normally we would do 2 states a week and spend about 15 to 20 minutes on the lesson 3 times a week.
During the lesson the child becomes familiar with the shape of the states, facts, labeling and locating the state on a map.
Lessons are broken down into 4 days.
Day one your lesson you learn the facts about the state, locate the state on the map and you draw each of the states you have learned so far.

Day two you locate and label the map again with all the states learned. (some weeks we skipped this part simply because we only used 3 times a week)
Day three we would locate and label the map again and we would review the facts about the state once more.
Day four we would go back over all the states learned and capitals. Then the challenge of the week is drawing the states from memory! This proved hard for my little man but over the course of a few weeks he got better although the task gets harder!

The only item that is really needed for this neat curriculum is colored pencils, which we have tons of around here.
Each new state that is introduced has an outline that is able to be traced. This helped my hesitant drawer feel better that he wasn't required to sketch it out first.
There are lots of maps included for use.
The curriculum is very complete, you need nothing!
The way I prepped this for my son was since we had the ebook version, I simply printed it all out and hole punched it to go into a binder. EASY PEASY.
Overall my son really loved this. Again drawing has been a struggle for him but I have been very happy with his ability and the fact that he has learned a lot in a short period about the states we have covered.
Find Brookdale House Publishing all over the web:
Twitter
Facebook
Pinterest:
Google+